Love is all around at annual Volunteer Awards
Volunteers from across Lancaster came together to celebrate the year's success at the Volunteer Achievement Awards 2018, with an appropriately named volunteer walking off with the big prize.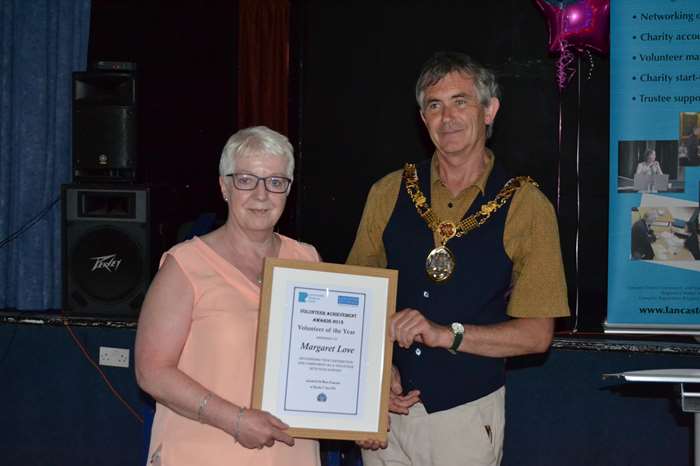 Love really did fill the function room of Trimpell Sports and Social Club as the Volunteer of the Year gong was presented by the Mayor of Lancaster, Coun Andrew Kay, to Margaret Love for her amazing work with mental health charity Peer Support.
Margaret has dedicated herself to helping some extremely vulnerable people, despite suffering some deeply personal losses with the sad passing of both her son and her husband.
Rebecca Chesworth, Peer Support's Project Coordinator, said "Over the last 2 years Margaret has gone through so much personal pain and turmoil, but she has managed to stay such a beautiful, sunny and understanding presence at Peer Support and is an inspiration to everyone who she is around."
The night also saw Steph Hoggarth awarded with the inaugural Roger Sherlock Community Inspiration of the Year award for her strong leadership in Galgate during last November's devastating floods. The award is named in memory of Councillor Roger Sherlock who sadly passed away last year.
CancerCare had a number of their volunteers recognised with 10-year-old Rory Wood sharing the Young Volunteer of the Year award with Luke Caton (18) from Out in the Bay, and Owen Westwood (10) from the Carnforth Community Swimming Pool, with the big Fundraiser of the Year award going to The Scarletts, an amazing group of ladies who turned their cancer diagnoses into a positive, raising thousands of pounds for the charity.
The annual event, this year delivered in partnership between Lancaster District Community and Voluntary Solutions, and Lancaster City Council, recognises the dedication, hard work, and often personal sacrifice of volunteers who make life-changing difference to local people.
It is an opportunity to say thank you to people who give their time with no expectation of reward.
The mayor of Lancaster, Coun Andrew Kay, added: "Volunteers are the lifeblood of our community and without them many organisations and services would simply not be able to function. I was delighted to join this celebration of the district's volunteers and the work they do every single day to improve the lives and opportunities of local people."
Proceedings were kept bouncing along by presenters Kevin Goodall and Mark Waddington from Lancaster District CVS. Mark, Volunteer Centre Coordinator, said: "When the panel got together to make the hard decisions about who should win each award, there were tears, and the event itself was just as emotional with so many amazing stories to share. It is a privilege to know these people and to be able to say thank you in this way."
There were also winners in the Trustee of the Year and Lifetime Achievement catergories. Guy Christiansen was recognised for his amazing work as Chairman of Lancashire Youth Challenge, and Pat Clelland took away this year's Lifetime Achievement award for all that she has done for Lancaster Tennis Club.
The awards were supported by some wonderful local businesses, who donated prizes for the deserving winners. Evolve Tattoos, The Dukes Theatre, TAO Hair, Salt Ayre Leisure Centre, Jo & Cass Hair and Beauty, and Nice & Spicy, showed real community spirit with their kind contributions.
Yak Patel, CEO of Lancaster District CVS said "We thank these local businesses for their tremendous gifts and for supporting community action by local people. Volunteers give so much of their time to others and this is a way of saying thanks to them for everything they do."
Last updated: 12 June 2018