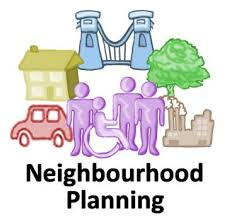 Neighbourhood planning gives town and parish councils or newly formed neighbourhood forums the opportunity to prepare, with the community they represent, a planning document for their area. The purpose of this new tier of plan making is to empower local people to take a proactive role in shaping the future of where they live, and give them greater ownership of the plans and policies that affect where they live. The Neighbourhood Planning Regulations came into force on 6 April 2012 and set out the detailed legislative framework for undertaking neighbourhood planning.
Putting the pieces together - How to designate a neighbourhood area (PDF, 354KB)
Area Designation
A consultation report summarises the responses to consultations on the neighbourhood plan designation area applications and formal notices and maps will be displayed in the village. See below for neighbourhood plan areas that have been designated.
| Neighbourhood Plan Area Designation | Neighbourhood Area Applicants | Notice, report and area map | Status |
| --- | --- | --- | --- |
| Wray with Botton Neighbourhood Plan Area | Wray with Botton Parish Council | Consultation Report (PDF, 256KB) | Approved 20 February 2015 |
| Caton with Littledale Neighbourhood Plan Area | Caton with Littledale Parish Council | Consultation Report (PDF, 256KB) | Approved 2 July 2015 |
| Cockerham Neighbourhood Plan Area | Cockerham Parish Council | Consultation Report (PDF, 252KB) | Approved on July 2015 |
| Halton with Aughton Neighbourhood Plan Area | Halton-with-Aughton Parish Council | Consultation Report (PDF, 256KB) | Approved 26 October 2015 |
| Slyne-with-Hest Neighbourhood Plan Area | Slyne-with-Hest Parish Council | Consultation Report (PDF, 252KB) | Approved 12 April 2016 |
| Morecambe Neighbourhood Plan Area | Morecambe Town Council | Consultation Report (PDF, 250KB) | Approved 26 April 2016 |
| Wennington Neighbourhood Plan area | Wennington Parish Council | Consultation Report (PDF, 306KB) | Approved 24 November 2016 |
| Dolphinholme Neighbourhood Plan area | Nether Wyresdale Parish Council and Ellel Parish Council | Consultation Report (PDF, 304KB) | Approved 24 January 2017 |
| Arkholme-with-Cawood Neighbourhood Plan area | Arkholme-with-Cawood Parish Council | Please note: In line with the Neighbourhood Planning (General) and Development Management Procedure (Amendment) Regulations, the Council is no longer required to carry out formal consultation on neighbourhood plans. | Accepted 12 February 2018 |
| Carnforth Neighbourhood Plan area | Carnforth Town Council | | Accepted 25 April 2018 |
Last updated: 09 May 2018