Take a deep breath...
Tranquil Spa and Beauty offers a stunning complement of therapeutic and rejuvenating face and body care treatments, using only the best products with the finest ingredients.
If you are looking to recharge or relax, here at Tranquil Spa we can provide you with the perfect haven in which to experience the most incredibly unique sensations, where the mind, body and spirit converge to feel an unforgettable and deeply pleasurable experience.
Our team of experienced and highly qualified therapists will be happy to put together a treatment package designed specifically for your needs, and will be happy to offer you advice on your skin's requirements.
Your specialised Tranquil Spa Team will make it personal. They look. They listen. They tune in to you, performing transformative treatments, personalised to respond to the ever-evolving rhythm of your life and the ever-changing nature of your skin.
Please see our Tranquil Spa Brochure (PDF, 1.7MB) and treatments price list (PDF, 105KB) for further information.
---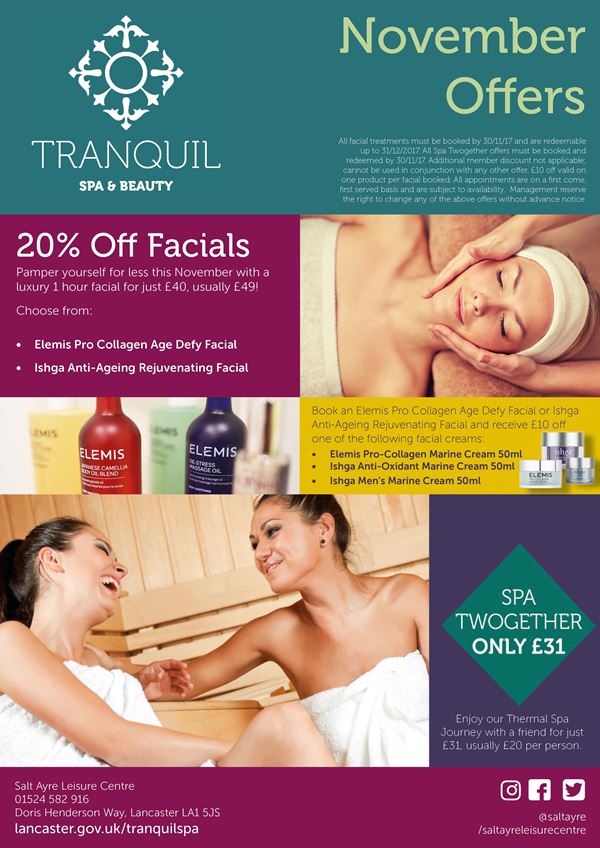 November Offers

Treat yourself this November with 20% off selected facials, £10 off selected face creams and enjoy our Thermal Journey with a friend for just £31.
Offers valid from 1st - 30th November unless otherwise stated.
Call 01524 582 916 for more information and to book your treatments.
Download a copy of our November Offers leaflet (JPG, 488KB)
---
Spa Experience
£20 per person, per session
Recharge, re-tune and re-connect with yourself in the calm and considered environment of our Thermal Spa Journey.
Enjoy up to an hour and 45 minutes of ultimate relaxation, taking in each of our finely tuned chambers to achieve total wellbeing.
In addition to your swimwear, please bring along two bath towels – one for use during the Thermal Journey and the other to use in our changing facility afterwards. You can also bring along your own bathrobe, slippers, and shampoo/conditioner to wash your hair afterwards if you would like to.
Our Thermal Spa Journey is comprised of:
Herbal Sauna
Dried herbs infuse the air to help you unwind and relax.
Ice Chute
Ice flakes to cool, tone and refresh your skin.
Watermill Sauna
The first of its kind in the UK, this spacious sauna, with its hot dry heat, soothes aches and pains whilst detoxing.
Salt Inhalation
A salt water atmosphere which is great for cleansing the skin and stimulating circulation.
Aroma Steam
To ease muscular tension and clear your mind.
Health Shower
Cool down and refresh.
---
Beauty Treatments
Indulge with one of our beauty treatments which use only the finest ingredients from industry leaders such as Elemis, Ishga and Jessica.
Tranquil Spa offers treatments to suit all your needs from sumptuous massage, relaxing facials and delicious scrubs and wraps; to the ultimate finishing touches at The Nail Bar and essentials such as tanning, waxing, brows and lashes. Furthermore, we can also get you ready for that special event with our Occasion Make Up packages.
Please see our Tranquil Spa Brochure (PDF, 1.7MB) and treatments price list (PDF, 105KB) for further information.
---
Opening times
Thermal Journey opening times

| Day | Open |
| --- | --- |
| Monday - Thursday | 9am - 8pm |
| Friday | 9am - 6pm |
| Saturday | 9am - 4pm |
| Sunday | 10am - 4pm |
Beauty Treatment opening times

| Day | Opening Times |
| --- | --- |
| Monday | CLOSED |
| Tuesday | 10am - 6pm |
| Wednesday | 10am - 6pm |
| Thursday | 10am - 8pm |
| Friday | 9am - 5pm |
| Saturday | 9am - 4pm |
| Sunday | CLOSED |
Last updated: 08 November 2017