Centenary House / Co-op Building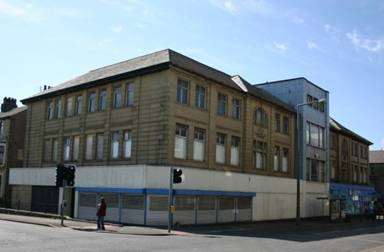 The aim set out in the West End Masterplan is to refurbish the existing building and bring it back into positive economic use.
The building is a large former department store of 3,000 square metres of unencumbered floor space which could lend itself to flexible sub-division. . There have been long standing ideas to convert the building into flexible business accommodation along with other viable uses. It has potential to provide space for new businesses incubation, grow-on business, social enterprises and training/employment skills. The project could enable the development of economic opportunities in an area that suffers high levels of worklessness and low wages. Also the building's prominent location means its reuse could assist place making and environmental improvement.
Securing investment to bring forward this project is considered as a high priority. Redevelopment of a derelict building will have major benefits for the West End commercial core not least in new business formation and increased animation.
July 2012
Taylor Young were appointed as the consultants to undertake a feasibility study, funded by the Lancaster District Local Strategic Partnership. The subsequent options analysis pointed to the involvement of the private sector and potential development partner interest. Rather than move on from the option analysis directly it was decided to formally explore likely interest from potential developer partners.
Expressions of interest requested through advert in Estates Gazette led to the council entering into a formal exclusivity agreement with Leeds based developer Eido ltd. The agreement gives sufficient confidence to the developer to develop a detailed business plan and financing scheme to bring the building back into productive use.
Within the current public funding environment it is clear that a private led refurbishment solution presents the best way forward which can deliver a project that will provide business space to create local employment opportunities. It may be that public funding input is still required to 'make it work'. In addition, if the private sector approach fails the council will still need to tackle the issues associated with the building.
The remaining feasibility study work concentrated on reducing uncertainties and unknowns for private sector investment and, should the private sector option progression fail, developing a contingency refurbishment project led by the public sector.
Last updated: 16 February 2016