Lancaster Covid Safe Scheme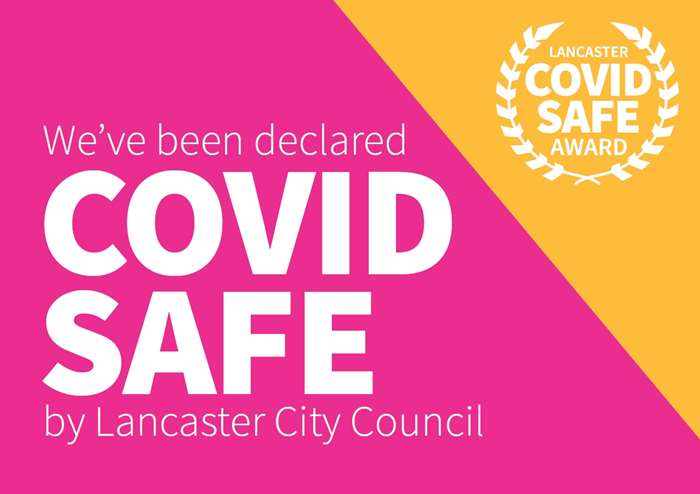 The Lancaster Covid Safe award scheme is designed to support our local retail and hospitality sector, by helping to provide reassurance to the public that it is safe to return to our shops, bars, pubs, cafes, restaurants and other venues operating within the district.
To qualify for Covid Safe status, business premises or venues must have undertaken a comprehensive Covid-19 risk assessment, put in place appropriate controls, trained staff so they understand Covid-19 control measures, and must comply with government and industry guidance to trade safely.
What do I need to do?
To apply for the Lancaster Covid Safe award, you complete an online Covid Safe self-assessment and provide evidence of the steps you have taken to run your business safely during the Covid pandemic.
Will it cost me anything?
No. The Lancaster Covid Safe award scheme is completely free to join.
How to apply
Our Covid Safe online self-assessment will give you an understanding of some of the areas you need to consider and have in place to gain the Lancaster Covid Safe award.
Where appropriate, you will need to demonstrate or provide evidence that you have adequate Covid-19 control measures in place, appropriate to your venue. Photographic evidence of control measures will be required as part of the application process and it may also be necessary to visit your premises to conduct a Covid Safe audit before agreeing your application.
Further unannounced audits will be conducted from time to time to assess continued compliance. Customers will be encouraged to provide feedback which will be used to inform decisions to undertake compliance audits.
The following websites will help you complete your Covid Safe self-assessment:
To complete the online self-assessment you will need to provide the following evidence. Please have these to hand before you begin:
Evidence you have completed some form of staff training (free training courses can be found online)
Photographic evidence of how you have adapted your business to the Covid-19 challenges with, for example, customer information, signage, queue floor markings, one way systems, hand sanitiser and cleaning products used etc
You will also need to:
Follow the self-assessment check list
Agree to unannounced Covid-19 safety visits by authorised council officers from time to time
Please submit your completed application along with at least three photographs showing your control measures and signage, evidence of staff training and if applicable, your Covid-19 risk assessment. Ensure that you provide a clear explanation of how you are controlling the risk of Covid-19 infection to staff and customers at your premises.
Once completed you will be contacted by a Lancaster City Council officer to discuss your assessment.
Last updated: 19 October 2020