School holiday activities

Enjoy the school holidays at Salt Ayre Leisure Centre - we've got some brilliant events and sessions taking place, which you can book tickets for below. Or why not try out some of our fabulous on-site attractions?
Find out more and book your holiday programme activities...
---
Free Menopause Talk with Laura
Sunday 11th June - 10.30 - 11.30
What happens to women during the menopause?
Let's chat!
Bring your experiences, bring your spouse/partner as this can impact them too or just bring yourself.
---
Free Les Mills Body Pump Technique Class
Sunday 18th June - 12.30 - 13.30
Saturday 24th June - 12.45 -13.45
Learn the correct techniques for Les Mills Body Pump, meaning you get the most out of your workout and see results faster.
---
Family Water Safety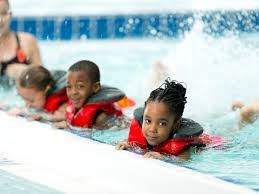 Sunday 25th June 9.30 - 10.30 and 10.30 - 11.30
£7.50 per family (Maximum four people age 8+)
Come along as a family and learn essential water safety skills as part of the RLSS drowning prevention week.
During the session you will learn '
Reach and Rescue ( saving someone else )
Self-rescue
Safe water entry
Whirlpools ( simulating water currents )
Cold water activities

Book your place

---