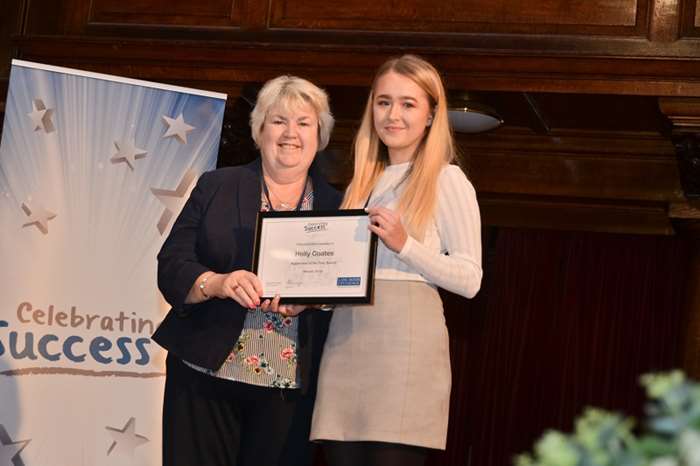 Earn while you learn!
To get started in a new field of work or even in your first ever role, employers are usually looking for a combination of experience and qualifications.
Undertaking an apprenticeship at Lancaster City Council would give you both, combining on the job training with study.
We view apprentices as our future and we are always on the look out for rising stars who want to work for our authority and make a real contribution to the community. We offer a supportive environment in which you can develop your skills working alongside experienced and friendly colleagues.
Our apprenticeships are advertised on our vacancies page throughout the year but even if nothing is currently available we are still keen to hear from you to see what areas of the council you might be interested in pursuing an apprenticeship in.
Please note: In order to be eligible for an apprenticeship with Lancaster City Council your current qualifications in the apprenticeship subject area cannot be higher than the level of the apprenticeship you are applying for. If you would like to contact us regarding this please email recruitment@lancaster.gov.uk.
Join our mailing list
Keep informed about current and forthcoming apprenticeships by signing up to our mailing list.
Meet three of our rising stars…
Holly - Business Administration Apprentice
"Going into business administration is one of the best decisions I have made. I began the apprenticeship not knowing a great deal about anything administrative or business related. But I had the willingness to learn, which not only made it a rewarding experience but a learning journey which I have very much enjoyed. I have gained and developed a variety of skills and the ability to work both independently and as part of a team. My confidence has grown and looking back I can see that I have grown as a person and developed my skills in all areas.
My level 2 Apprenticeship has been a great stepping stone in my career. I look forward to my future in the council and hope to achieve more in the years to come. "
Ben - Motor Vehicle Technician Apprentice
"I've always wanted to be a vehicle technician so I jumped at the opportunity to train as an Apprentice with the council. The chance to learn on the job and get qualified at the same time was too good a chance to pass over.
My role here in the Vehicle Maintenance Unit is to carry out servicing and minor repairs while I am working towards my Heavy Vehicle Level 3 VCQ. I'm also observing and learning a lot from the other Technicians. It's busy and challenging work but I'm really enjoying it and the team here are great.
Once I've gained my Level 3 and become a fully qualified mechanic I'm hoping to be taken on permanently as a Vehicle Technician."
Fiona - Joinery Apprentice
"After looking around for a suitable apprenticeship I chose Lancaster City Council because of the opportunities and the great benefits here. I really enjoy the role, especially the more complex projects we do which are really satisfying to work on.
Over the next three years I will be working towards my Level 3 NVQ whilst shadowing and learning on the job from a qualified joiner. After that I'd like to stay with the council and maybe look at taking something more advanced like a HND/HNC."
---