Middleton Community Woodland and Nature Reserve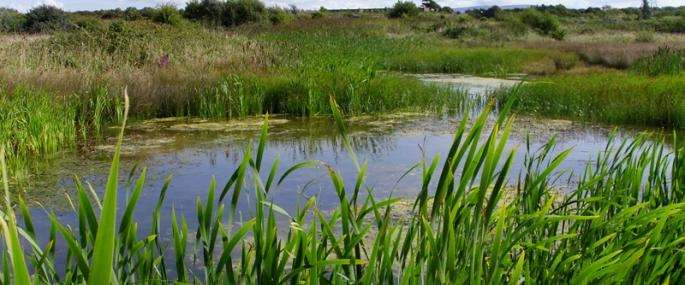 Just before reaching the village of Middleton, a former industrial site has slowly transformed into a thriving nature reserve with a rich variety of wildlife, flora and fauna.
The Lancaster City Council owned site has a long industrial history which started in the 1930s when a refinery to produce aviation fuel was built on farmland. This was an important facility during World War 2 and was photographed by the Luftwaffe (presumably as a potential bombing target).
Following the end of the 2nd World War, the refinery closed and the site was bought by Shell who, over the next 30 years, produced a range of chemical products. After the oil crisis in 1973, operations were gradually scaled down and demolition of the refinery was largely completed by the end of the 1970s.
Lancaster City Council purchased the site in the 1980s with the intention of promoting economic development on the site on the back of the Morecambe Bay gas field. The site was cleared and some remediation works carried out. Unfortunately, the anticipated demand for industrial land failed to materialise and the site remained largely unused for a number of years.
In 2002 the council obtained money from the former NWDA and the European Union to undertake more remediation works, such as capping an asbestos tip, and to create a new Community Woodland. The woodland officially opened in 2004 and it and the wider nature reserve is now managed by the Lancashire Wildlife Trust on behalf of the council.
The reserve offers a variety of wildlife habitats and species from wetland to grasslands and most is designated as a Biological Heritage Site. The Nature Reserve is home to a large population of common toads, great crested newts and over 250 species of butterfly and moth.
The management of the nature reserve is an ongoing process and we are looking at ways of securing its long term future. This could involve redeveloping some of the site for industrial purposes and negotiating contributions from other development in the immediate vicinity via Section 106 funding. A project utilising Section 106 funding from Dong Energy as recently completed and successfully utilised the funding to assist with the clearance of invasive species from the site, create a number of new ponds and enhance a number of species rich grassland and marshland areas.
The reserve is open all year round and is access via a car park from Main Avenue (off Middleton Road), Middleton, near Heysham Morecambe Lancashire, LA3 3PP.
---
Last updated: 01 June 2017