Podback coffee pod recycling
Lancaster City Council is working with Podback to provide this new free recycling service, helping you to recycle your pods (coffee, tea and hot chocolate) as part of your normal kerbside recycling collection.
Podback is a nationwide, not-for-profit, coffee pod recycling service. Created by the biggest names in coffee pod systems, Nespresso, NESCAFÉ Dolce Gusto and Tassimo, to give people who enjoy the quality and taste of coffee pods simple and easy ways to recycle them.
We are supporting this new recycling service, enabling you to recycle your coffee pods every fortnight, as part of your normal kerbside recycling collections.
Look out for leaflets through your door. These will give further details of the scheme and how you can register!
Please note: If you live in a property that shares communal bins collection, you will be provided with a clearly labelled container for Podback bags next to your recycling bins. If there is no Podback container please email our Recycling Team
How to recycle your coffee pods
Register for the Podback recycling service at the Podback website and order your FREE recycling bags

Podback will send you two rolls of recycling bags, along with an instruction leaflet. Each roll contains 13 bags for recycling your aluminium or plastic coffee pods. Bags are sent by Royal Mail and should arrive within 7 – 10 working days.

Once you have your bags, fill them as instructed.

Place the bag(s) on the lid of your recycling bin/box by 7am on your normal recycling collection day.

When you need to top up your supply of recycling bags you can log into your account on the Podback website and reorder.
What types of coffee pods can be recycled?
Plastic and aluminium pods for coffee, tea, hot chocolate and milk can be recycled using Podback collection bags.
When you sign up on the Podback website you'll be asked what brand of pods you use.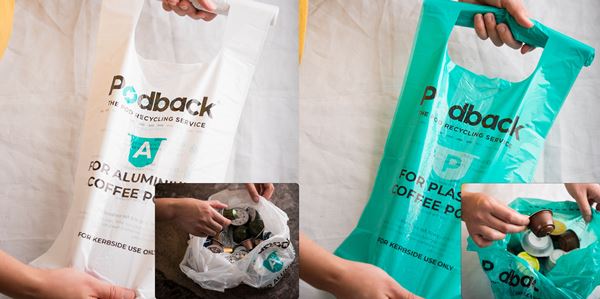 This is so you get the correct bag – white bags for aluminium pods, green bags for plastic pods.
The two materials need to be collected separately as they are sent to different recycling facilities.
What happens to the pods once collected?
The coffee pods you recycle with Podback are taken to specialist aluminium and plastics reprocessing plants in the UK. The coffee grounds are removed, and the plastic and aluminium are then transformed into new products, including beverage cans, car components, plastic garden furniture and building products. The coffee grounds are used to create renewable energy (biogas) and soil improver.
Find out more by watching our video
To find out more about the service, and if you can recycle your brand of pods, see our frequently asked questions page or visit the Podback website.
Last updated: 23 October 2023