Christmas card design winners revealed
The Mayor of Lancaster revealed the young winners of his design a Christmas Card competition this week with a surprise visit to their schools.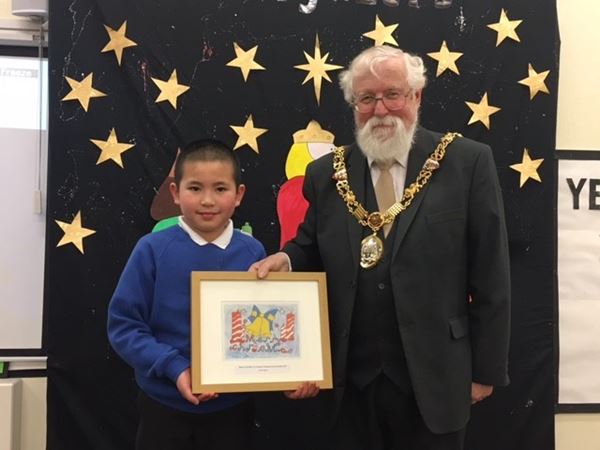 In October this year primary school children from across the district were invited to design this year's Mayor, Coun Roger Mace, a Christmas card.
The winning design, chosen from more than 100 entries, was created by Leo Su, age 8 from St. Joseph's Catholic Primary School, Skerton, Lancaster. The runner up was Amelia Mayor, age 10 who attends St. Wilfrid's School, Halton.
The Mayor's Official Christmas Card has now been printed and sent to a number of important people on behalf of Lancaster City Council, including Her Majesty the Queen. The design which came in second is featured on the back of the card.
The Mayor said: "The Mayoress and I were delighted to meet the winners and to surprise them at their schools. A wide range of different interpretations of the Christmas story was evident from the many contributions received. We thank all the entrants and those who supported and encouraged them."
Both Amelia and Leo have been presented with a framed copy of their design and will be welcomed to Lancaster Town Hall to meet the Mayor with their friends and family in the new year and to enjoy a tour of the building.
Last updated: 21 December 2017