Who Dares Wins
Europe's first ever Flight Tower opened in SAS style this week with a daredevil test run of the new 21m high attraction by stars of TV reality show Who Dares Wins.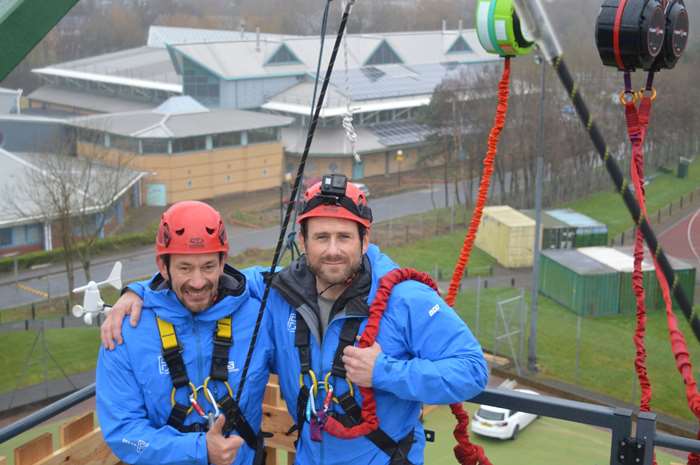 The flight tower, aptly named Gravity, is a multi-level ultimate extreme outdoor attraction at Salt Ayre Leisure Centre. It invites adrenalin enthusiasts to test their nerve with a choice of five possible descent options using free fall, zip wire and bunjee.
This week's launch event saw presenters of Channel 4's Who Dares Wins, Jason 'Foxy' Fox and Matthew 'Ollie' Ollerton, take the new attraction through its paces with a daredevil display using every which heart pounding way of leaping from the tower.
Students from Our Lady's Catholic College were invited along to enjoy the demonstration and follow the VIP guests up the 21 metre tower to enjoy the sensation of freefall by leaping from the 19.5 m apex, 'The Drop'.
Coun Darren Clifford, Lancaster City Council's Cabinet member for leisure, used the opportunity to conquer his fear of heights for charity by taking flight from The Drop alongside Founder and Director of Hangfast (manufacturer of the attraction), John Beers. In return for completing his personal challenge by way of sponsorship, Darren is hoping to raise funds for this year's mayoral charity being the development of a diabetes hub in Lancaster and as a veteran of the armed forces, the veterans mental health charity, Combat Stress.
Commenting on the new attraction and his experience of freefall for charity, Coun Clifford, said: "Having the first ever flight tower in Europe on our very own patch is a real coup for the Lancaster district and having experienced it myself today I can now say with hand on a rapidly beating heart that adventure enthusiasts and thrill seekers will certainly not be disappointed."
Gravity is an integral part of a £5m regeneration of Lancaster City Council's Salt Ayre Leisure Centre, co-ordinated by Alliance Leisure on behalf of the council and expected to attract more than 8,000 visitors to Salt Ayre this year to experience the European first.
The 90 minute Gravity experience is suitable for all the family (7 years +) and no prior climbing experience is needed as our dedicated team will be on hand to show you the ropes.
Options include:
Leap of faith (6 metres high)
Speed Zip Wire (12 metres high)
Superhero Zip Wire (12 metres high)
The Fall (12 metres high)
The Plummet (12 metres high; 3m free fall)
The Drop - 7m flightline (19.5 metres high; 7m free fall) or 3m flightline (19.5 metres high, 3m free fall)
Sessions cost £12.50 for juniors (7-17) and £15 for adults (18 years and over).
To book your session on Gravity, call 01524 847540.
For more information visit www.lancaster.gov.uk/saltayre
Last updated: 21 February 2017