Countdown to flight tower launch at Salt Ayre Leisure Centre
The countdown to the launch of Europe's first ever Flight Tower has commenced as work on the central structure, measuring over 60ft, is completed at Salt Ayre Leisure Centre.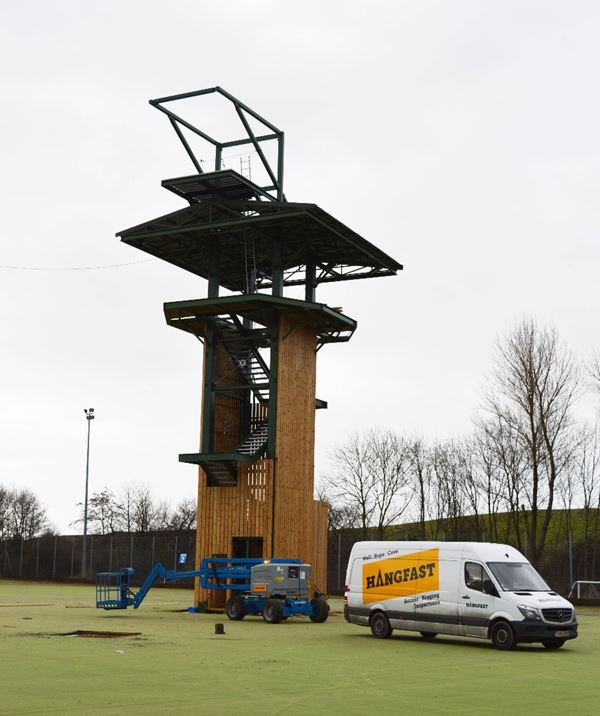 Produced by world class adventure engineers Hangfast, the Flight Tower, named Gravity, is a multi-level outdoor tower and new epic adventure installation which will see adrenalin enthusiasts invited to test their nerve and leap from the apex, 'The Drop'. There are various ways of descent including abseil, zip-line or free fall.
Further to work getting underway in October 2016, just over 57 tonnes of steel and 550 metres of wood have been used to build the main tower structure, secured by almost 2,000 bolts. A 35ft all-terrain mobile crane and electronic winches were used to lift the main steel structures into place.
As the countdown to next month's launch commences, the focus now is on completing the wooden cladding and surrounding ground. This will see a further 250 metres of wood secured in place and over 40 tonnes of gravel hauled on site.
Over 8,000 visitors are expected to flock to the new attraction this year, as adventure enthusiasts with a head for heights flock to experience the European first.
Speaking on the construction, founder and director of Hangfast John Beers said: "You never quite know what challenges you may be presented with when building external structures at this time of year; however I'm pleased to confirm the conditions have been relatively kind and we're well on track to complete Europe's first Flight Tower, Gravity, on schedule.
"Over the next few weeks our team of dedicated engineers will be working hard to put the finishing touches in place to ensure that visitors enjoy the ultimate adrenalin packed experience. Gravity at Salt Ayre will be a European first and it's important that the structure is as visually exciting as it is to jump off."
Coun Darren Clifford, Lancaster City Council's Cabinet member with responsibility for sport and leisure, added: "As we embark on the final stages of the construction, anticipation is really building for the launch of Gravity. It's an integral part of the £5m redevelopment of Salt Ayre and our goal of creating a leisure destination that has something for the entire community to come along and enjoy."
Phase one of the regeneration of Salt Ayre Leisure Centre was completed in October 2016 and saw the introduction of a new XHeight climbing wall, Energy indoor soft play centre and cafe. Further developments have included a 100-station gym and a dedicated Immersive Spin Studio, both of which are now open.
The final phase of the development will come in the form of a luxurious Spa facility, filled with relaxation spaces, a selection of treatment rooms, beauty offers and more; to be complete this summer.
Chief Executive of Alliance Leisure Sarah Watts added: "We're delighted to be working with Hangfast and the City Council to transform Salt Ayre Leisure Centre. Progress of the Flight Tower is coming along in leaps and bounds and we're confident it will provide an amazing local and regional attraction to the Lancaster area and we are excited to be developing this attraction."
Last updated: 11 January 2017