Appointment of new chief officers
Two new chief officers have been appointed by Lancaster City Council.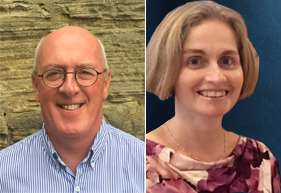 Kieran Keane will be joining the council on July 31 as Assistant Chief Executive, for an interim period of 12 months.
The new role has been established to assist the council in developing and implementing a commercialisation strategy for the organisation.
Kieran brings with him a wealth of experience. Having started his career in audit, he has worked for the last 17 years with Places for People Group, where he has served as a Group Executive Director since 2010.
Kieran said: "This is a hugely challenging time for Local Government but also a time for great opportunities.
"I'm looking forward to working with staff and councillors on how we address these challenges to ensure the district continues to be a place where people are proud to live and businesses want to invest."
Also joining the city council is Estelle Culligan, who will take up the post of Chief Officer (Legal and Governance) on September 11.
Currently based in Kent where she heads a shared legal services team covering three borough councils, Estelle will fulfil the statutory role of Monitoring Officer and chief legal advisor to the council.
Having started her career in HR, Estelle trained as a solicitor in private practice before moving to local government where she has worked for 13 years.
She said: "I am looking forward to working with colleagues and councillors on some interesting challenges and projects. I am also looking forward to moving with my family to a most wonderful part of the country and exploring – on foot and bicycle – the fascinating heritage of Lancaster and the stunning coast and countryside."
Last updated: 27 July 2017