Outdoor theatre comes to Williamson Park
Williamson Park in Lancaster will host four outdoor theatre productions this summer in its very own natural amphitheatre, The Dell.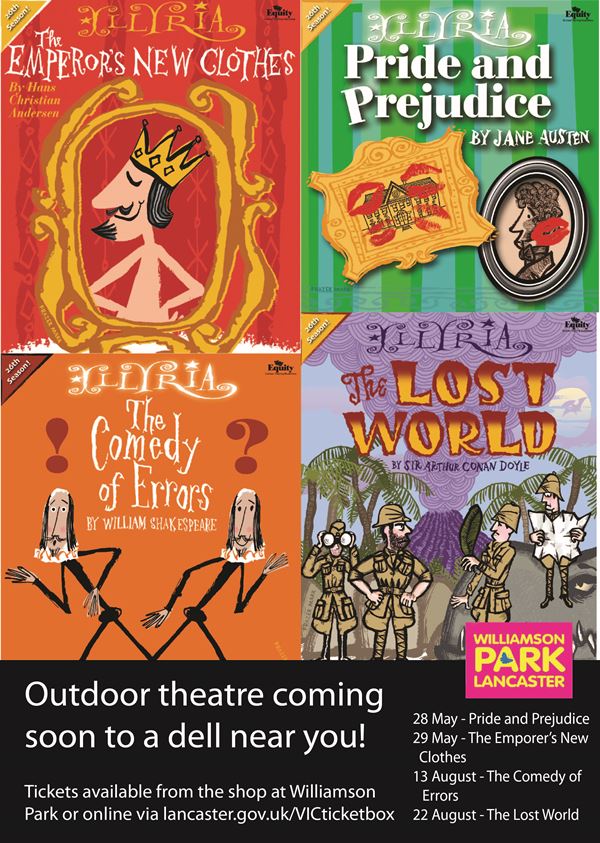 Now in its 26th open-air touring season, outdoor theatre company Illyria will be returning to set up stage in the park to perform an adaptation of Jane Austen's glorious social comedy 'Pride and Prejudice' on Sunday, May 28.
In a social whirlwind of balls, dinners and very eligible officers, Lizzie Bennett and Fitzwilliam Darcy stand alone as the only sane people - and they hate each other! Or do they? Can she see beyond his pride, and can he overcome her prejudice, in order to achieve their mutual happiness?
If your idea of Jane Austen is costume-drama, empire-lines and tea-parties, then this sparkling adaptation, based entirely on the original novel, is something to make you change your mind.
Bring a picnic and have a ball as the irrepressible Illyria sharpen their claws to bring you Jane Austen at her vibrant, pacey, forthright, bitchy best!
The performance starts at 7.30pm (gates open at 7pm) and is suitable for adults and children age five years and over. Running time: 2 hours 20 minutes including 20 minute interval.
On Monday, May 29, children can enjoy watching an adaptation of the timeless Hans Christian Andersen story, The Emperor's New Clothes.
The Emperor is a lovely man, but he's not the best judge of character, and is often surrounded by idiots. What keeps him sane is the monthly Grand Parade at which he wears his newest outfit. When two swindlers spin a yarn and everyone is taken in, what price will he have to pay? Will the new clothes they make really enable him to weed out the idiots in his palace? Or will he end up losing his crown jewels? All will be revealed in Illyria's cheekiest ever show with larger-than-life characters, lots and lots to join in with – and an ending that will leave you helpless with laughter!
The performance starts at 3pm (gates open at 2.30pm) and is perfect for children aged 5 + and their families. Running time: 1 hour 40 minutes including 20 minute interval.
On August 13, Illyria will return to the park with a performance of William Shakespeare's The Comedy of Errors followed by a must-show packed with prehistoric thrills, monster laughs and life-size dinosaurs abound with Sir Arthur Conan Doyle's The Lost World on August 22.
Tickets for all shows cost £13.50 for adults, £8.50 concession/child and a family (2 adults + 2 children) costs £38.
These can be purchased for the May productions online (£1.50 booking fee), by phone – 01524 33318 or 582394 or in person from the shop in Williamson Park and Lancaster Visitor Information Centre.
For more information on Illyria who perform at some of the most prestigious outdoor locations in the UK and beyond, visit www.illyria.uk.com
For more information on Williamson Park visit lancaster.gov.uk/williamsonpark or call 01524 33318.
Last updated: 09 May 2017