Lancaster City Council Celebrating Success Awards
Lancaster City Council held its first Celebrating Success employee awards ceremony recently to recognise the hard work and achievements of its workforce both as individuals and teams.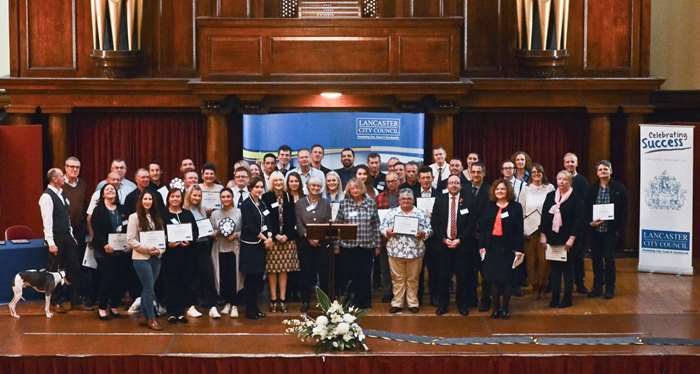 The ceremony took place in the Ashton Hall in Lancaster Town Hall last month when the winners and runners up of each category were announced and presented with a certificate.
There were nine nomination awards up for grabs during the afternoon which included the Outstanding Contribution to the Community Award, Apprentice of the Year Award, Innovation and Enterprise Award and the Contribution to the Environment Award.
The Special Recognition Award was presented to Jack Billingham of the council's Grounds Maintenance Team in recognition of his bravery when he was recently attacked by two individuals whilst carrying out his work in the West End of Morecambe.
The winner of the Volunteer of the Year Award was Kirsty Chekansky, Service Support Administrator in the council's Regeneration and Planning Department. Kirsty won the award for the time and commitment she has dedicated towards the development of the new Bay Cottage Play Area in Heysham.
Cleansing Operative, Julie Staerke of Environmental Services scooped the Outstanding Customer Service award for all the positive comments she regularly receives from members of the public whilst carrying out her street cleansing role in all weathers.
The overall Lancaster City Council Award, which was chosen from all the nominations in all categories, was won by the entire Salt Ayre Leisure Centre team in recognition of great innovation, ability to implement change, teamwork, commitment and the contribution it has made to the centre's £5M transformation which started in May 2016.
There were also awards to those who had completed their apprenticeships with the council and those who had worked for the organisation for 25 years.
Last updated: 15 November 2017