Lancashire bids to go around the world — one mile at a time
People across the Lancaster district are being asked to join with the whole of Lancashire to walk, run, hop, skip, jump or swim a mile on May 18th 2018.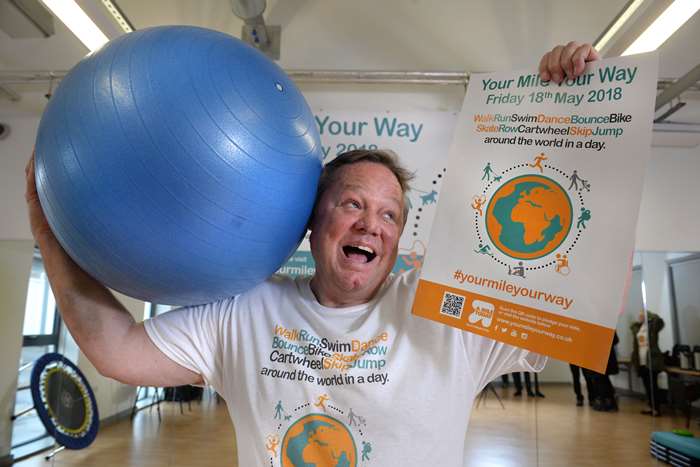 The aim is to encourage at least 24,901 people to pledge to take part on Your Mile Your Way Day, which in cumulative distance terms would equate to going around the world.
Your Mile Your Way is being coordinated by Lancashire County Council as part of its Active Lives and Healthy Weight programme. Providers of the programme will be hosting Health Week 2018 from 14th - 18th May, which will offer members of the public access to free fitness activities over the four day period. The Your Mile Your Way challenge will conclude the Health Week 2018 activities on Friday 18th May.
A range of Your Mile Your Way activities are being planned right across the county on the day that will be free to join in or alternatively, people can just do their own thing —as long as they remember to pledge their mile via the Your Mile Your Way website.
The website also features links to all the events in each area — which for the Lancaster district includes Nordic walking and a chance to run a mile at Salt Ayre Leisure Centre.
The initiative is being supported by comedian Ted Robbins — star of Phoenix Nights — who shed more than four stone and became a gym regular after surviving an on-stage heart attack.
Ted said: "It took a cardiac arrest for me to look at my life differently. But during my recovery I started doing short daily walks which doctors recommended to get my strength back up.
"I started off doing a walk around the hospital ward, then a 15-minute walk, then half an hour, and now I have built up to a couple of miles. I would love to eventually do a fundraising walk or jog. The great thing is, I enjoy it and I look and feel younger than I have for ages."
Figures show that 23 per cent of adults, equating to around 218,000, in Lancashire do less than 30 minutes of moderate activity a week, when the Chief Medical Officer recommends adults undertake 150 minutes of activity each week.
Children aged between five and 18 should be taking part in at least 60 minutes of moderate to vigorous activity per week, however survey results show that only 15% of children aged 15 in Lancashire are estimated to be reaching that level.
Dr Sakthi Karunanithi, director of public health for Lancashire County Council, said: "The figures show that we need to do more to encourage people, young and old, in every part of Lancashire to become more active.
"We're hoping Your Mile Your Way Day on May 18 will become a catalyst for people across the county to commit to taking up more regular exercise. The health benefits for the individuals would be enormous."
Background to Your Mile Your Way
The Active Lives Survey (2015/16) estimates that 63.5% of the adult population of Lancashire-12 are living with excess weight, significantly above the national estimate of 61.3%. This suggests there are over 600,000 adults in Lancashire-12 with a weight problem.
Figures from QOF 2016/17 showed that there were 147,947 persons (aged 18+) recorded as living with obesity, accounting for 10.6% of the registered population.
The districts of Burnley (67.7%) and South Ribble (68.3%) both have significantly higher estimated excess weight prevalence than the national average. As does the neighbouring authority of Blackpool (68.6%).
The National Child Measurement Programme (NCMP) 2016/17 found a total of 7,262 reception and Year-6 age children from across the Lancashire-12 were living with excess weight.
At a district level Burnley (25.6%), Hyndburn (27.2%), Lancaster (26.7%) and West Lancashire (26.8%) were all found to have a significantly higher prevalence of reception age children (4-5) with excess weight than England.
Trend line analysis indicates that excess weight prevalence increases as children move from reception age to year six.
Estimates of adult underweight, suggest that there are almost 9,000 underweight adults living in Lancashire-12 with Preston estimated to have significantly high levels of adult underweight prevalence.
Last updated: 23 April 2018