Children's literary talents celebrated by mayoral competition
A sombre reflection on the horrors of World War I has won a 10-year-old schoolboy a poetry competition and the honour of being crowned the Lancaster district's junior poet laureate.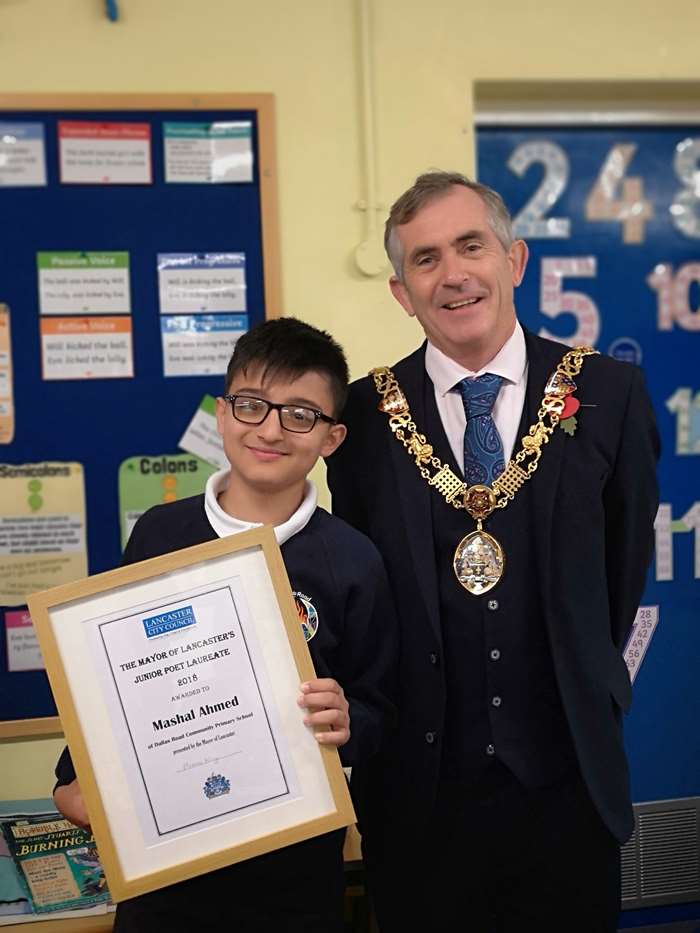 Mashal Ahmed, from Dallas Road Community Primary School, has won the Mayor of Lancaster's poetry competition, which asked budding writers to write an original verse to commemorate the armistice.
His winning entry beat off competition from more than 150 children from schools across the district, with Sophie Hargreaves from Overton St Helen's school a close runner-up.
The Mayor of Lancaster, Coun Andrew Kay, said: "We had a fantastic response to the competition and it was very difficult to choose a winner, but Mashal's poem stood out from all the rest. It really does invoke the horror of war and its effect on ordinary people.
"I'd like to send a big thank you to all the children and schools that took the time to get involved with the competition. All the children should feel very proud and I hope it has helped to engender a love of poetry for many years to come."
The competition was organised in conjunction with local poet Bryan Griffin, who visited many of the schools to help the children with their poems.
Nine million tears,
A generation full of fears,
A generation valour lost in blood,
Nine million men horribly dying,
Families at home always crying.
Fields of white crosses stand to attention,
This was is like a never ending detention,
Leader from other countries commencing war,
Men and women screaming no more, no more.
Last updated: 08 November 2018