S.C.R.A.P. fly-tipping this Christmas
Did you know that householders can be fined up to £5,000 if their bulky household waste ends up being fly-tipped by an illegitimate waste removal service?
As part of its Operation Peregrine campaign, Lancaster City Council is urging residents and businesses wanting to make sure their waste is disposed of legitimately to think S.C.R.A.P.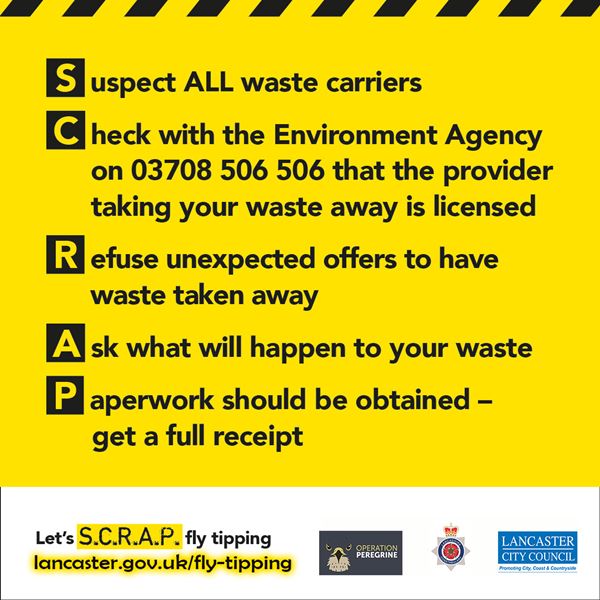 Whether it be remnants of a bit of pre-Christmas DIY, pre-loved toys and furniture, building rubble or bags of excess household waste you're disposing of, everyone has a duty to dispose of their waste responsibly. If evidence can be found amongst fly-tipped waste which traces it back to its owner, it could mean the householder or business being prosecuted for failing to make insufficient checks as to the legitimacy of the disposal service they are using as well as footing the bill for the costs incurred by the council to clear it up.
Anyone looking to earn a bit of extra cash during the festive season as a waste removal service with the intention of fly-tipping should also think twice if they want to steer clear of being 'the man without a van' and fined up to £50,000 in a magistrates' court.
If you want to join in the battle against fly-tipping and can offer any information which might lead to an offender being identified and caught, please call Lancaster City Council Customer Services on 01524 582491, email customerservices@lancaster.gov.uk or use the online reporting form at www.lancaster.gov.uk/fly-tipping
All information provided will remain strictly confidential.
Last updated: 16 November 2018