Lancaster's festival of light, music and fireworks shines brightly
Record crowds in the region of 48,000 people descended on Lancaster at the weekend to enjoy this year's magical two-night festival of light, music, art and fireworks in the city.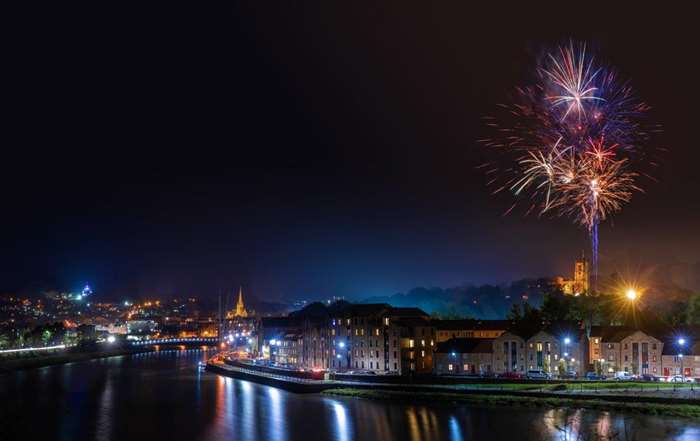 Brought to you by Lancaster Arts City, Lancaster City Council and Lancaster BID, this popular event is now in its sixth year and once again saw Lancaster's streets, gardens and heritage buildings transformed through live performances, interactive illuminated artworks and contemplative installations. Local, national and international artists and performers drew inspiration from this year's WW1 Centenary Anniversary and the theme of Home, and what it meant to them.
Saturday daytime offered a programme of family-friendly craft workshops, after which the festival finale – the annual Fireworks Spectacular – was launched from the grounds of Lancaster Castle, attracting thousands from across the district to view this dazzling display.
Highlights from this year included House Down at Lancaster Castle by internationally-renowned performance specialists imitating the dog and world-record holding hip-hop artist Testament. Music and rap combined with video-mapped drawings produced by children from across the globe to create a visually stunning story exploring the notion of what 'home' means to young people today.
A short distance away at the Judges' Lodgings, Illuminos gave you the chance to explore the universe, where extraordinary planets were waiting to be discovered. Visitors were invited to control a telescope to uncover the universe's secrets through light and sound. The Pikooks; a pair of majestic kites resembling snowy owls, soared gracefully over Market Square whilst Chinese dragons cast haunting shadows and fragrant incense over Dalton Square's Chinese Quarter. Lancaster Priory and the King's Own Royal Regiment Museum at Lancaster City Museum offered poignant and moving installations exploring and commemorating the lives of local people affected by World War One.
New for this year was Lancaster University's interactive Family Zone at the library which presented a new collaboration between the university and the festival. Visitors enjoyed hands-on light-based activities with leading academics exploring numbers, planets, colours, lights and the secrets of the human body.
If you attended any of the Light Up Lancaster events and would like to offer your feedback, you can complete an online survey at www.lightuplancaster.co.uk/feedback. Everyone completing the survey will have the chance to be entered into a prize draw to win Love2Shop vouchers worth £100.
Last updated: 07 November 2018