You're hired - council apprentice picks up prestigious award
Congratulations are in order for a Lancaster City Council apprentice, who has picked up a prestigious national award.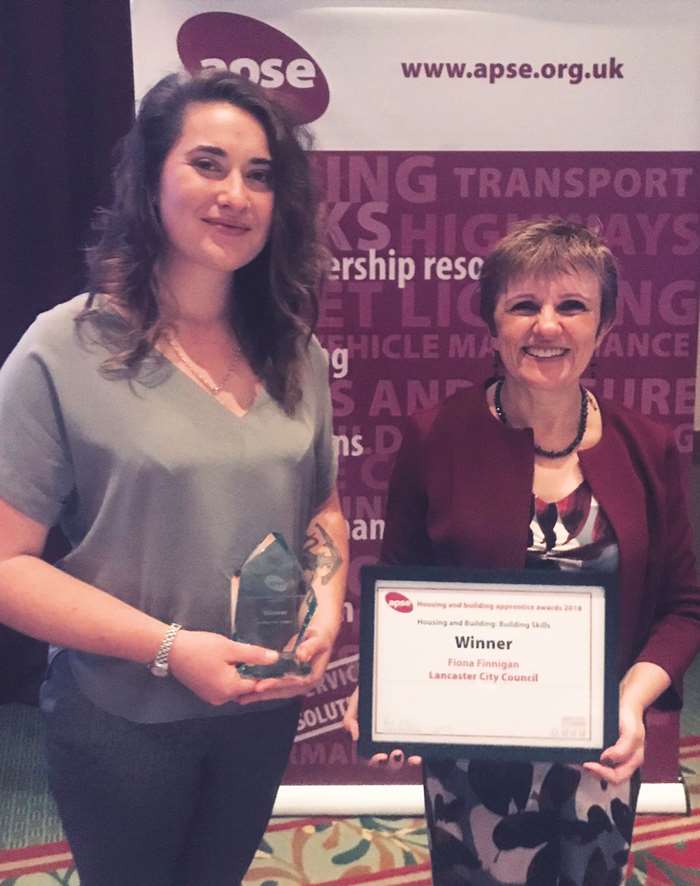 Fiona Finnigan beat off stiff competition from more than 20 other entrants to be crowned building skills apprentice of the year in this year's Apse apprentice awards.
Originally from Manchester but now living in Glasson Dock, Fiona joined the council in November 2016 and is currently in the last year of her apprenticeship in joinery.
As with all apprenticeships there's a strong vocational element which sees Fiona spending her working week helping to repair and maintain the council's roster of houses and flats. On a typical day, she will replace doors, renew kitchens and fix any woodwork problems from which a property might be suffering.
She also attends Lancaster and Morecambe College weekly to learning the tools of the trade.
It's the third award won by Fiona during her time with the city council. In July she received an apprenticeship award from Lancaster and Morecambe and last year she was crowned apprentice of the year at the council's own staff awards.
Fiona said: "I was thrilled to just be shortlisted for the award but to win is really fantastic. I've thoroughly enjoyed my apprenticeship and love the sense of satisfaction you get with a practical job like joinery.
"I'd like to thank everyone at the city council who has contributed to me winning this prestigious award and especially Steve Watson, who has been a great mentor."
Lancaster City Council also picked up a trophy at the awards ceremony for its commitment towards apprenticeships.
Coun Eileen Blamire, leader of Lancaster City Council, added: "This is an excellent achievement and Fiona should be very proud. The judges were very impressed both in the quality of her work and the commitment to her own personal development.
"It's particularly pleasing to see a young woman thriving in what has been a traditionally male dominated profession.
"The council's apprentices' programme is a fantastic example of how much we value young adults and is committed to investing in their future.
"A key part of keeping any organisation fit and healthy is ensuring that we have a regular flow of new ideas and ways of thinking.
"The investment we are making in these apprentices is reaping such huge rewards."
In the last six years the city council has employed 34 new apprentices in jobs including joinery, ICT, HR, vehicle maintenance housing, communications, property and many more.
For details of how to apply for a future apprenticeship vacancy with Lancaster City Council visit the job vacancies page at www.lancaster.gov.uk/jobs where you can sign up to a mailing list and be advised when apprenticeships become available.
Last updated: 09 October 2018