Help us plant a million trees
Lancaster City Council is asking schools, businesses and communities to dig deep and help to fulfil its pledge to plant one million trees across north Lancashire as part of the Northern Forest project.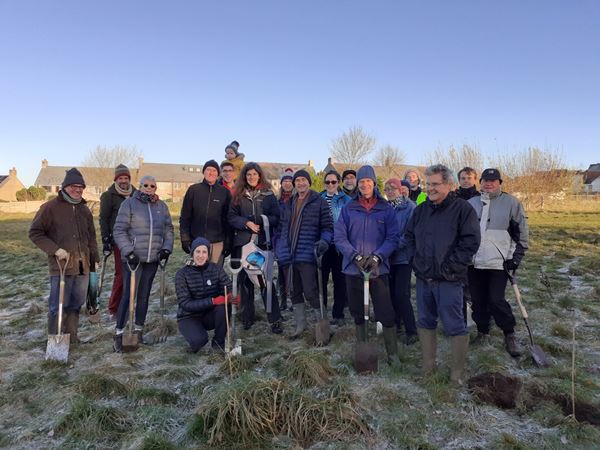 As part of its commitment to tackling climate change, the council is working in partnership with the Woodland Trust and Forestry Commission to achieve this goal.
Thanks to funding from Defra, the Woodland Trust will contribute up to 85 per cent of the costs to anyone wanting to incorporate trees on their land through its MOREwoods scheme.
The council's million tree challenge has already got off to a flying start with the planting of more than 1,700 trees during National Tree Week (November 23 – December 1) with the Friends of Barley Cop Woods, Miss Whalley's Field and Devitre Gardens and horticultural students from Central Lancaster High School. A tree planting event for young people also took place at Newton Beck.
Volunteers needed
More than 100 volunteers have already signed up to help to plant trees at future events but the council is hoping more people will register to get involved.
Schools are being asked to lend a helping hand too by taking part in planting events within their community or by agreeing to dedicate space within their grounds to plant trees or hedgerows. Those offering a space will benefit from help in sourcing the trees as well as expertise from a landscape architect who will visit the site and advise on species and where to plant. The council will help to coordinate planting events and offer assistance on the day.
Anyone wanting to know more about how they can get involved in this ambitious challenge or to be added to the mailing list to receive details on future tree planting events, email your contact details to milliontrees@lancaster.gov.uk and someone will be in touch.
Free tree giveaway

As a Christmas bonus, the Woodland Trust and the council have more than 800 birch and rowan trees to give away for planting across the district.
If you could give a good home to the trees perhaps as a sustainable Christmas gift or to plant as living memorial dedicated to someone, you can pick them up from the following locations:
Shop at Williamson Park (open daily from 10am – 4pm)
White Lund Plant Centre, White Lund Depot, White Lund Road, Morecambe (open weekdays from 10am to 3pm)
As stocks are limited, trees will be given away on a first come, first served basis.
Last updated: 04 December 2019