Burma Star Memorial shines brightly
A new memorial dedicated to the local men and women who served in the Burma Campaign 1941 – 1945 will be unveiled next week (Thursday October 24) in Morecambe.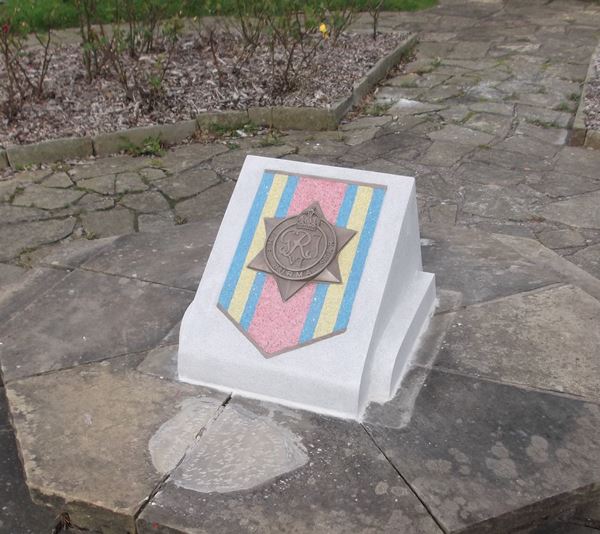 The new Burma Star Memorial designed and created by local sculptor, Shane Johnstone replaces an old concrete memorial which had become beyond repair in the memorial gardens next to the town's cenotaph.
The memorial is a bespoke fabrication cast in terrazzo, jesmonite granite and bronze. The original commemorative plaque in engraved stainless steel has been restored and incorporated into the new memorial.
The base is cast in polished silver grey granite and the tri-colour terrazzo inlay reflects the colours found on the Burma Star medal ribbon. Each colour is significant and represents a different aspect of the campaign. Red represents the British Army and Commonwealth Forces, blue the British Naval Forces and yellow the Burmese sun. Cast in Bronze and mounted on the terrazzo ribbon is a representation of the Burma Star medal.
Representatives of Lancaster City Council, the Morecambe and Heysham Branch of the Royal British Legion and sculptor Shane Johnstone will join Father Michael Childs, Vicar of St. Barnabus Church, Morecambe and the Mayor of Lancaster, Coun David Whittaker at 10.30am on Thursday, October 24 for a dedication ceremony ahead of Remembrance Sunday on November 10. Everyone is welcome to come along.
Coun Roger Dennison, representing Lancaster City Council as Veterans' Champion, said: "It will be a great honour to attend the unveiling of the new memorial to remember all those from our area who served in the British Fourteenth Army and fought so courageously against the brutal Japanese invasion of Burma in World War II and at huge cost to themselves. We hope that this new memorial serves those who served our country well and their families for years to come."
Sculptor, Shane Johnstone, added: "I chose this approach as a homage to the aesthetic employed by the creator of the original memorial. Made by an artisan/tradesman and veteran of the campaign, the choice of materials and methodology remind us that soldiers are from and return to peacetime civilian life after serving.
"The sacrifice of war is tragically wasted unless it brings peace. We best serve the memory of the men and women of Britain and the Nations of the Commonwealth that we respectfully commemorate here by striving now more than ever for unity across all humanity and a lasting World Peace."
Last updated: 18 October 2019