Caton Road flood defences completed
A major flood risk management scheme on the River Lune, designed to protect hundreds of properties from the risk of flooding, has reached completion.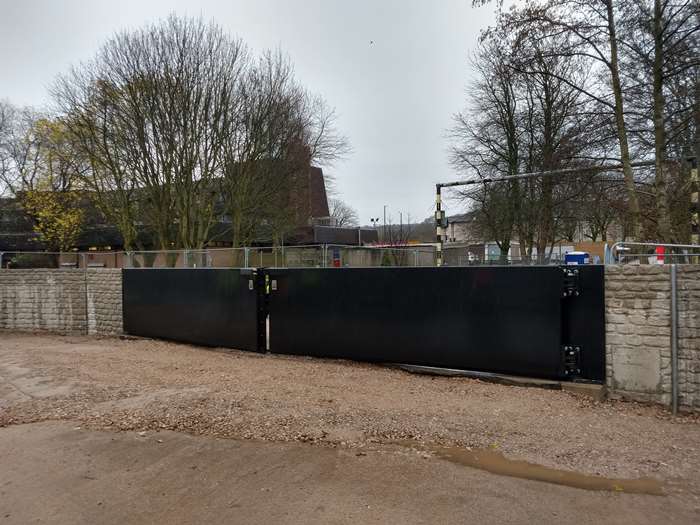 Lancaster flooded during Storm Desmond on 5 & 6 December 2015, when river levels exceeded the design level of the existing defences, resulting in the extensive flooding of the city.
£12.1M flood scheme covering residential and business communities in the Caton Road and Aldrens Lane areas of Lancaster has reached completion
The scheme will better protect more than 170 homes and businesses to a Storm Desmond level this winter
Over 1100 business properties as well as surrounding roads and infrastructure
Covering the Caton Road and Aldrens Lane area, the new scheme will reduce flood risk to more than 170 homes and businesses at a cost of £12.1 million pounds – substantially increasing protection from the previous defences.
Working in partnership with the Environment Agency, Lancaster City Council have built new flood walls and made improvements to the existing ones. Works also include significant improvements to surface water flooding in the area.
As part of the scheme the Millennium cycle path will be improved and fully resurfaced, and around 3,000 new trees planted in the city. The play and recreation facilities will be also be improved, including new park benches and entrance features.
The project team were able to secure £3.85M in European Regional Development Funding as part of the European Structural and Investment Funds Growth Programme 2014-2020 towards the scheme. This means that the defences have been delivered around two years earlier as a result.
Councillor Tim Hamilton-Cox, Lancaster City Council's Cabinet member with responsibility for sustainable economic prosperity, said: "This is a vitally important scheme that aims to address the unacceptably high level of flood risk immediately upstream of Lancaster city centre between Halton Weir and Skerton Bridge.
"With the construction of these new flood defences our ambition is to protect one of Lancaster's most important commercial areas, as well as homes and businesses on the right bank at Aldrens Lane, from river flooding for many years to come.
"I'd like to pay tribute to the huge amount of work that has been undertaken by officers in the city council in partnership with the Environment Agency, construction partners, a number of local businesses, and our communities to deliver this project and improve our flood resilience."
Andy Brown, Environment Agency's Flood and Coastal Risk Manager for Lancashire, said:
"The communities of Lancaster have seen first-hand how devastating flooding can be. That's why I'm so pleased to see the completion of the fluvial flood defences of this much anticipated and vital scheme reach completion.
"This new £12.1 million investment will better protect 170 homes and businesses in Lancaster, and is an example of how we work with partners to make communities more resilient to the escalating impacts of the climate emergency.
"The Caton Road scheme will have a substantially higher standard of protection, and whilst we can never guarantee that there will never be future flooding, we hope that this scheme will bring peace of mind to our communities. We look forward to completing the surface water mitigation in the coming months."
Last updated: 16 December 2020