Crook O'Lune beauty spot gets new lease of life as a memorial forest
A beauty spot at the Crook O'Lune near Lancaster, known locally as Hermitage Field is getting a new lease of life as a memorial forest.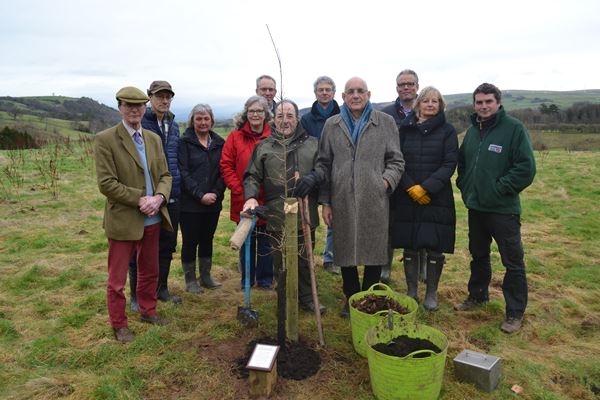 A formal license between Lancaster City Council, the owner of Hermitage Field and charity, Life for Life has been finalised which will allow the planting of more than 150 trees on a two-acre plot at the centre of the field.
Life for a Life is a not for profit, non-denominational registered charity which enables individuals and families to plant trees with a memorial plaque in more than 40 locations around the country. Over time, the trees develop into an attractive and well organised forest that everyone can enjoy.
The charity already manages a successful memorial forest on land owned by Lancashire County Council just 400 metres away from Hermitage Field. This is almost fully subscribed, and the charity was looking for a new site to extend its scheme close by.
Hermitage Field currently contributes to the area being a popular place to visit with car park and picnic facilities nearby. A fence will be erected around the planting area with gates for public access.
An official handover of the memorial woodland took place today (Thursday, January 30) with representatives from Crook O'Lune Advisory Committee, Lancaster City Council, Lancashire County Council and Life for a Life.
Councillor Kevin Frea, Cabinet member for open spaces and nature conservation, said: "This is a great opportunity to breathe new life into a popular beauty spot and establish something that has a positive impact on the environment and the community as well as give more people the opportunity to plant living memorials for those they have lost.
"The new arrangement also has ecological benefits too in terms of woodland creation and conserving our open spaces. The scheme will also help the council to fulfil its pledge to plant a million trees across north Lancashire as part of the Woodland Trusts Northern Forest project and its commitment to tackling climate change."
Jane Carroll, Chair of Life for a Life, said: "Our charity is proud and privileged to embark on this new partnership with Lancaster City Council. Trees and the environment are at the forefront of ensuring nature has a home and helping to combat climate change. To this end not only will this new partnership provide a managed woodland for future generations to enjoy but also enable investment in this beauty spot's infrastructure, that will further enhance the accessibility and add even more value to this beloved community asset. The partnership will also further the charity's work within the area as it has in recent years, working alongside the local community and other stakeholders to restore four acres of wildflower meadows and brought other areas into management; benefitting local wildlife and the community."
Life for a Life plant their memorial woodlands with native broadleaf trees which conform to the Forestry Commission guidelines. Families will be offered the option of interring ashes with the purchase of a memorial tree.
If you'd like to plant a tree at Hermitage Field in memory of a loved one or for more information, visit www.lifeforalife.org.uk
Last updated: 30 January 2020