New support line to connect communities
A new partnership is helping to spearhead efforts to connect community volunteers to vulnerable people that need support due to the coronavirus pandemic.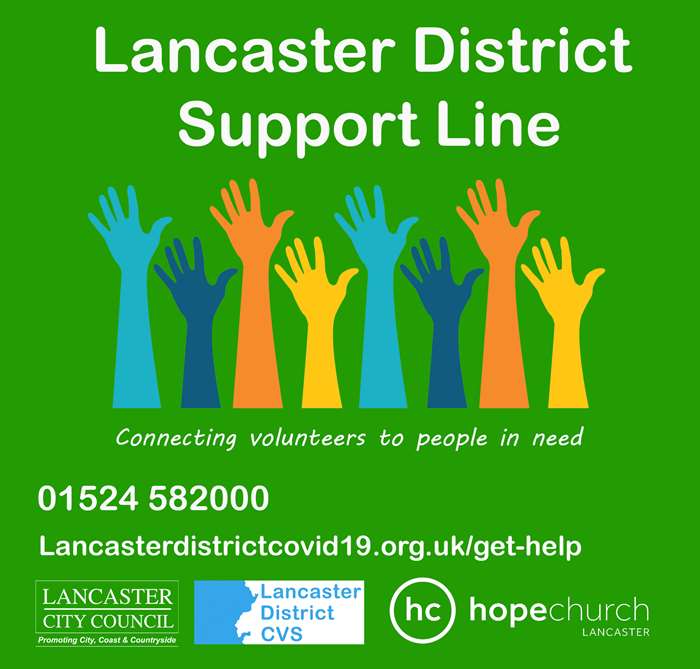 Lancaster City Council, Lancaster District CVS and Hope Church Lancaster have launched the Lancaster District Support Line to put volunteers and communities in touch with each other.
All three organisations have been inundated with offers by people from all walks of life, all of whom want to be able to support their communities.
The new system is designed to coordinate these offers and ensure the right support gets to the right people.
Whether it's collecting shopping, picking up or delivering post or parcels, collecting and delivering prescriptions, or just ringing someone for a chat, the support line will help to match people who need help with those who live close by.
An electronic referral form has been developed to request support. It is available at Lancasterdistrictcovid19.org.uk/get-help and anyone without access to the internet can contact the Community Hub on 01524 582000.
Councillor Dr Erica Lewis, leader of Lancaster City Council, said: "At the moment when our community was most uncertain about what the impact of coronavirus would be, there was a massive movement of people offering to support their neighbours and local communities.
"We know there are lots of volunteers who haven't yet had the opportunity to help and we hope the "support line" will enable more people to ask for help while keeping both sides safe.
"On behalf of the council, I'd like to thank everyone who has volunteered as part of the pandemic response, and the many community, voluntary and faith sector organisations who are mobilising as part of the response."
Yak Patel, CEO of Lancaster District CVS, continued: "Our strong communities and brilliant voluntary sector are a key part of how Lancaster District will get through this crisis. We are taking a flexible approach to developing the support line so that the council and our partners can quickly respond to the rapidly changing situation. This ensures we can coordinate effective and safe support to the city's most vulnerable people."
Jamie Haxby, outreach worker for Hope Church, added: "At Hope Church Lancaster it's our desire to bring hope to our city and that whoever you are, and however this virus is effecting you, there are a group of willing volunteers here to help you get through this in ways big and small. We can get through this together."
To complement the support line a new map has been developed to provide information on local services, businesses and other services that are also able to provide support. It is available at Lancaster.gov.uk/local-services and any businesses or organisations that are not included can sign-up to have themselves listed.
Last updated: 05 May 2020