Keep a Light On
This November and December, the Light Up Lancaster team presents Keep A Light On, an exciting new project invoking the spirit of Lancaster's much loved annual Light Up Lancaster festival.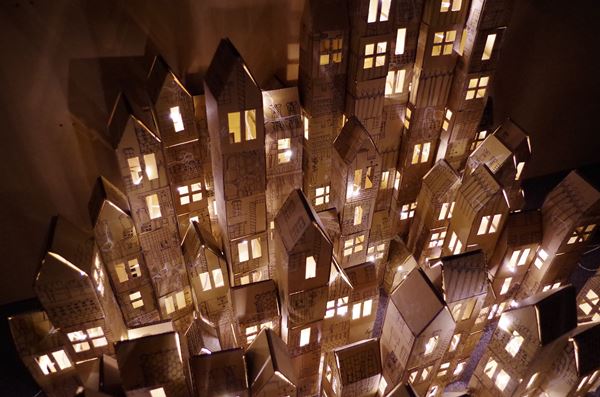 At a time when people cannot come together to enjoy this year's popular festival of light, art and fireworks, Keep A Light On (KALO) brings us magical new light art installations in empty shops in the city centre, plus the chance to get creative and make your very own window display from the comfort of your own home.
KALO has invited local artists Jenny McCabe, BCL Lighting, and Taylor Woodcock and Hannah Corcoran to create beautiful artworks that reflect togetherness and happiness, and the hope for a brighter future when we can once again gather to enjoy festivals and celebrations.
These artworks will appear unannounced in shop windows throughout November and will remain there until early January, giving everyone plenty of time to plan a twilight or after-dark stroll to discover them.
The Light Up Lancaster team would also like you to get involved by creating your own enchanting KALO displays. Simply visit www.lightuplancaster.co.uk to download the 'frame' of a city centre shop window and use pens, crayons or a digital drawing package to create your own design suggesting warmth, hope, joy and light.
Alternatively, you can opt to transform your own front windows or spaces using twinkling lights, decorations and drawings to show your street and local community that we all share a sense of hope and togetherness. Please ensure all materials used for your window displays are flame retardant.
Take a photo of what you have created and send your images to takepart@lightuplancaster.co.uk and the team will feature as many as possible on the Light Up Lancaster website.
Councillor Jean Parr, cabinet member with responsibility for arts, culture, leisure and tourism, said: "Keep a Light On is the perfect opportunity for people to have some much needed fun and at a time when they would normally be looking forward to celebrating bonfire night and enjoying Light Up Lancaster and the firework spectacular alongside their family and friends.
"The beauty of this project is that everyone can get involved in lighting up the lives of people living in their neighbourhoods and doing something special for their community to enjoy."
So don't forget to go and visit Lancaster's KALO installations, get creative and have fun this winter whilst helping to keep the spirit of Light Up Lancaster alive.
For more information visit www.lightuplancaster.co.uk/keepalighton
KALO is a Lancaster City Council, Lancaster BID and Dukes Funded Project.
Last updated: 02 November 2020