Children invited to sign up to happy healthy holidays this winter
Lancaster City Council is inviting children and young people receiving free school meals to sign up to a week of winter fun with its winter Holiday Activities and Food Programme (HAF).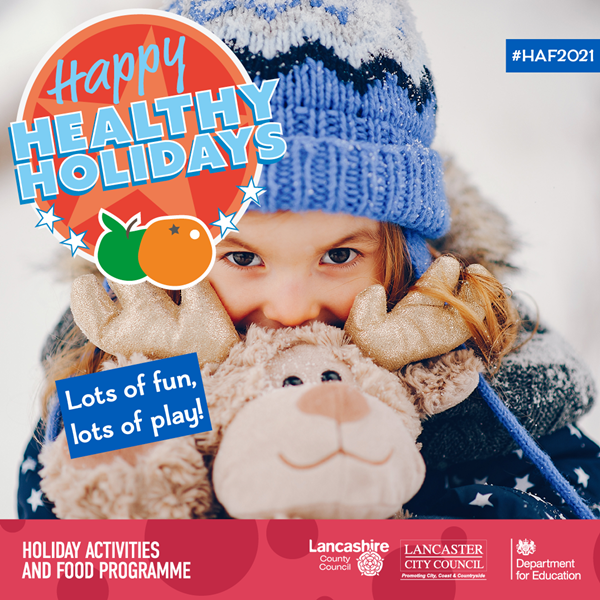 Funded by the Department for Education, the local HAF programme known as 'Happy Healthy Holidays,' aims to provide free, enriching activities and healthy food for children receiving benefits-related free school meals.
Following on from a successful summer programme of HAF activities, the council has been working with local holiday club and playscheme providers and other organisations to pull together an exciting variety of options for young people aged 4 to 16 to choose from.
The free activities which run from 20 to 24 December also include a nutritious meal each day.
Many of the activities are already available to children and young people not eligible for free school meals, who can pay to attend.
Councillor Sandra Thornberry, Cabinet member with responsibility for community health and wellbeing, said: "Our Happy Healthy Holidays programme over the summer was a great success and provided many children with exciting and much needed opportunities to enjoy doing something special and inspiring, especially outdoors, during the school holidays.
"We aim to build on this success during the December school holidays and hope what is on offer will be of particular benefit to families who are struggling with reduced incomes and the expense of everyday necessities such as food and childcare."
The programme includes specific provision available for children with SEND or additional needs, at no cost.
Parents and carers should contact the activity provider direct for more information and to book. A list of providers can be found at www.lancaster.gov.uk/holidayactivities
Some of the schemes are already full so early booking is advised.
Last updated: 01 December 2021