Bailrigg Garden Village consultation moves forward
The next step of a major consultation to help shape proposals for the Bailrigg Garden Village (BGV) has been launched.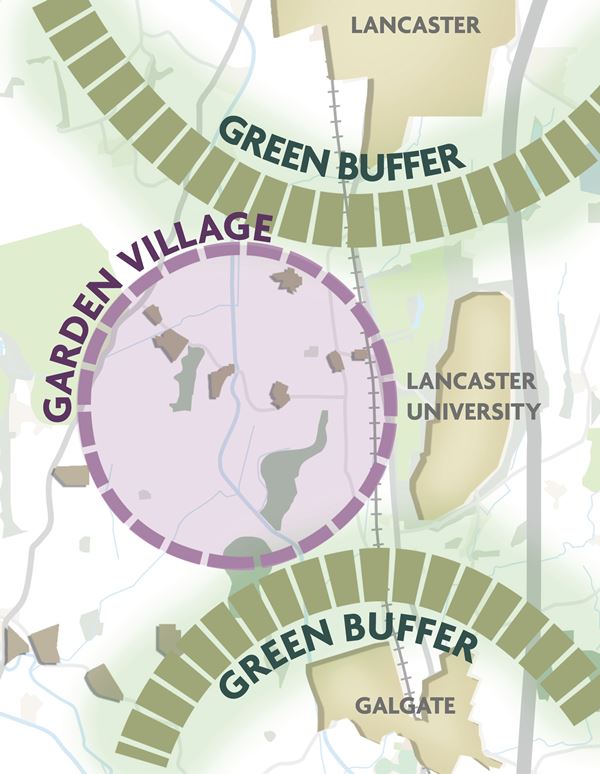 Expert master planners JTP have been appointed by Lancaster City Council to work collaboratively with the community, relevant organisations, landowners and prospective developers on the creation of a masterplan for the BGV.
The first stage of the consultation saw the launch of a new project website and more than 3,000 newsletters delivered to homes across an area to the south of Lancaster including to the whole of Galgate and those at the southern edge of the city immediately fringing the BGV area. Further newsletters will be delivered during the course of the consultation.
In total 880 responses were received from local residents, businesses and organisations in the area, including formal responses from Canal and River Trust, South Lancashire Flood Action Group, Bailrigg Residents Association, and Scotforth Parish Council.
Meetings have also been held with local organisations including Lancaster Civic Society, Lancaster University, landowners, agents and developers and Galgate Flood Action Group.
From these responses an overall vision for the BGV has been developed, which is now open for consultation until Tuesday February 23.
Councillor Janice Hanson, cabinet member with responsibility for Economic Regeneration and Planning, said: "I'd like to thank everyone who has offered their views and ideas so far, particularly all the young people in the area who are passionate about shaping the future of their area.
"The council wants to engage with as many people as possible about the whole range of issues that really matter, including drainage and flood risk, infrastructure challenges, climate change, air quality, biodiversity and wildlife.
"It's great to see how much progress has been made already in gathering the views and ideas from local communities, all of which are vital in ensuring any emerging proposals for the garden village respects and reflects the needs of the those living, working and doing business in south Lancaster.
"There is still much work to do and many more opportunities coming up over the next few months for people to have their say in shaping this important project as we strive to ensure we get it right."
Located in south Lancaster between the edge of the city and Galgate, the overall ambition of the BGV is to create a new distinct settlement that meets all housing needs and provides opportunities for business creation and growth, creating an environment to live and work which allows both people and wildlife to thrive.
Other key ambitions for the masterplan include innovative environmental improvements and sustainable water management, along with improved sustainable travel options and connectivity to the city and surrounding settlements.
For more information and to get involved visit www.bailrigggardenvillage.co.uk
Last updated: 12 February 2021