Businesses reminded of need to follow Covid-19 regulations or face possible enforcement action
Lancaster City Council has thanked businesses for the way they have responded to the latest national lockdown, with a high rate of compliance among affected businesses.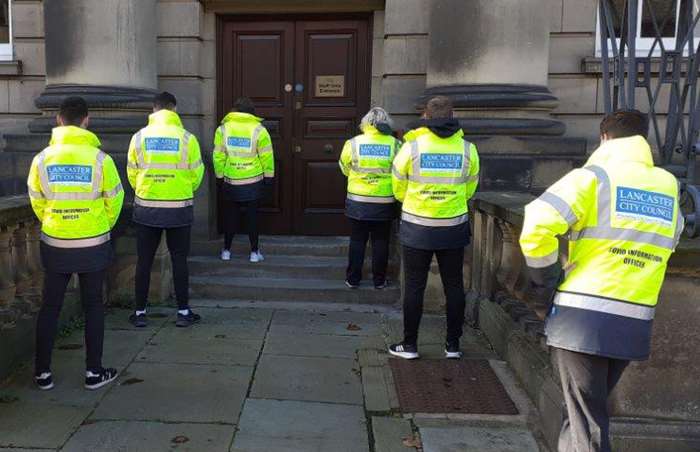 But it has also warned that enforcement action will be taken against any that are operating illegally and urged the public to continue to report suspected lockdown breaches.
The council's Public Protection team is working closely with businesses and since last March has conducted more than 2,000 proactive visits and is recognised nationally for the quality of its work.
Another 10,000 businesses have been contacted by email or mailshot with advice to help them interpret the complex lockdown rules and, where possible, continue to operate safely through services such as click and collect.
Twenty-three Covid Information Officers (CIOs) are also helping to support businesses by patrolling the streets and retail centres, reminding customers about the requirement to wear face coverings and to give space to others.
They are also gathering intelligence and information on potential Covid-19 regulation breaches for the Public Protection team to follow-up for further investigation and possible enforcement.
CIOs are also visiting high footfall areas such as Williamson Park and Morecambe promenade to make sure people are following the latest Government guidance and reminding them of their responsibilities to limit their contact with other people.
Councillor Dr Erica Lewis, leader of Lancaster City Council, said: "Now, more than ever, we need businesses and individuals to follow the lockdown restrictions. The infection rate locally is rising rapidly and the latest data shows there are more than 500 cases per 100,000. To put that into context, they were below 100 at the end of November.
"There has been a very high level of compliance with the lockdown rules by businesses so far and my thanks go to them all for the positive approach they've taken.
"It's vital that businesses continue to adhere to the regulations, and where it's the case that businesses are operating against the regulations, we have a range of enforcement powers available to us.
"Of course, as individuals we also have to play our part and support those businesses that have been able to continue trading by making sure we wear a face covering while on their premises, keeping our distance from others and regularly washing our hands."
Anybody who is concerned that a business or your workplace may be breaking lockdown rules or do not feel safe should let the council know by emailing environmentalhealth@lancaster.gov.uk.
Businesses who have questions about compliance should also contact environmentalhealth@lancaster.gov.uk, as the council is keen to support businesses.
Covid Information Officers receive funding from the England European Regional Development Fund as part of the European Structural and Investment Funds Growth Programme 2014-2020.

The Ministry of Housing, Communities and Local Government (and in London the intermediate body Greater London Authority) is the Managing Authority for European Regional Development Fund.

Established by the European Union, the European Regional Development Fund helps local areas stimulate their economic development by investing in projects which will support innovation, businesses, create jobs and local community regenerations. For more information visit www.gov.uk/european-growth-funding.
Last updated: 14 January 2021