Co-Wheels launch fully electric car club in the Lancaster district
Lancaster City Council has teamed up with national car share scheme Co-Wheels to launch an all-electric car share club.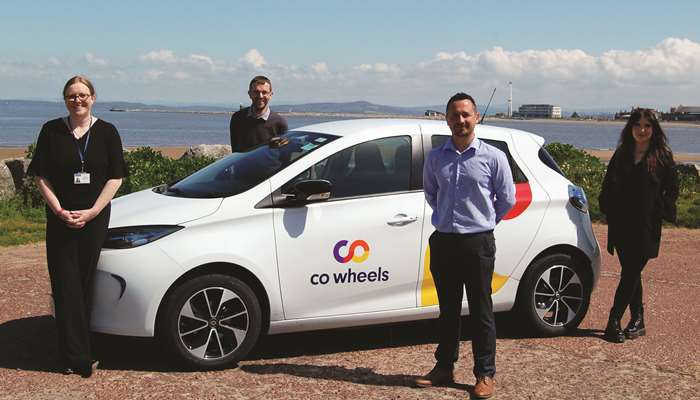 Fully electric vehicles will be available to hire in Lancaster city centre and Morecambe town centre (close to the promenade) from as little as £5.50 an hour.
Insurance, cleaning, servicing and refuelling are also included in the cost. Cars are equipped with charge cards and charging guides to assist users in trying out this green mode of transport.
Jonathan Collinson, Business Development Manager of Co-Wheels, said: "There's a lot of great work going on to reduce carbon emissions in the Lancaster district which we are pleased to support with the launch of this new car club. We're making it more accessible for people to have the option to hire a car when they need it rather than having to own a vehicle – it's far cheaper and better for the environment this way.
"To celebrate the launch, we're offering people in the Lancaster district £1 memberships and £40 credit to try our service."
Lancaster City Council are providing the fully electric cars, which are also used as their staff pool cars, and have welcomed the launch of the scheme.
Councillor Kevin Frea, deputy leader & cabinet member for climate action, said: "The council has ambitious plans to become net zero carbon by 2030 and has already make great strides towards achieving that aim within its own services.
"One of the ways we're doing that is by making electric vehicles available to our staff for short trips around the district. I'm delighted that through this partnership with Co-Wheels we are now able to make these cars available to the general public as well.
"By using an electric vehicle instead of a petrol or diesel car, people will not only be helping us to reduce CO2 emissions but also contributing towards improving local air quality."
When booking a car, a handy location map on the Co-Wheels app or website shows where the nearest one is. Keys aren't needed as members are provided with a smartcard to access the car. Members can also book cars in any of the Co-Wheels locations around the UK.
Car clubs have been shown to reduce car dependence with, on average, each car club car removing between 10 and 15 privately owned cars from the road. Use of walking, cycling and public transport also increases with the introduction of a car club.
To protect vehicle users, Co-Wheels is carrying out extra measures to ensure the highest level of cleanliness. Every vehicle is professionally cleaned regularly and all touch surfaces are cleaned with a new long lasting disinfectant that keeps surfaces germ-free for an extended period.
For more information and to sign up to the £1 membership and £40 credit offer visit www.co-wheels.org.uk/lancaster.
More information on the actions being taken by Lancaster City Council to tackle the climate emergency is available at www.lancaster.gov.uk/climate-change.
Last updated: 28 May 2021