Community organisations urged to apply for funding to improve health and wellbeing
Organisations are being encouraged to apply for funding to improve health and wellbeing in their local area.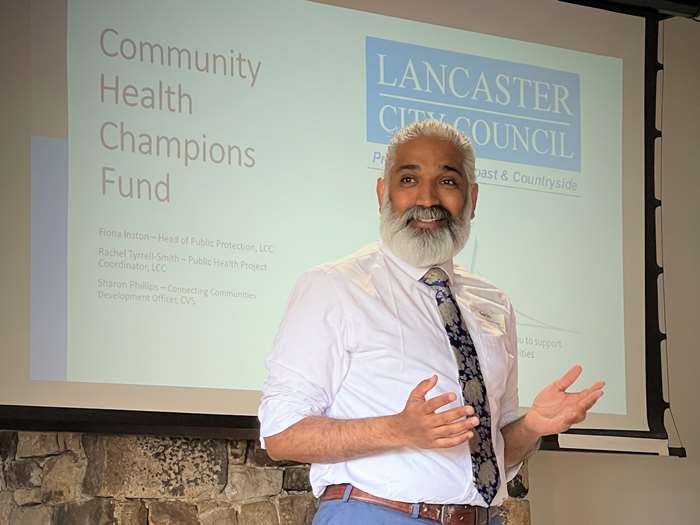 Lancaster City Council has launched its community health champions project, which will enable local groups to apply for between £500 and £10,000 funding to launch health schemes which directly benefit residents.
The funding is thanks to the Department of Levelling Up, Communities and Housing's Community Champions Scheme.
The project forms part of the council's wider Covid-19 legacy of the community coming together to protect and benefit the health of others – from those who helped in food banks, to those who volunteered in vaccination centres, to everyone who had their vaccinations to the local businesses who helped keep customers safe.
More than 30 people from local organisations attended the information event at the Vale of Lune last week, which included guest speaker Dr Sakthi Karunanithi, director of public health for Lancashire County Council, who also took the opportunity to thank the community for all it had done to keep each other safe and help each other during the pandemic.
Dr Sakthi Karunanithi said: "The community has been instrumental in helping us to keep people safe throughout the pandemic. As we look ahead to the future, we want to build on that legacy and empower community champions to continue this important work.
"The Community Champions Scheme is an example of our partnership working with Lancaster City Council that will directly improve people's health and wellbeing."
Lancashire Youth Challenge and Marsh Community Centre were successful in a joint application for their Reflections Project, as part of the pilot scheme through the council to offer wellbeing and life skill sessions for young people.
The project will help young people to question and explore the sources of information they receive about health and wellbeing, enabling them to make informed decisions.
Between 10-15 young people have already benefitted through sessions on healthy cooking, sleep hygiene, stress and anxiety management and will take in the effect of vaccines on the body and first aid.
Sam Duckles, project co-ordinator at Lancashire Youth Challenge, said: "This fund has enabled us to work consistently with a core group of young people over a sustained period of time, to offer education and advise around topics which are invaluable to their development.
"We hope the outcome is that those involved come away with the tools and knowledge to be able to make informed choices about their health and well-being and develop tangible life skills which they can carry with them well beyond the programme."
Councillor Caroline Jackson, leader of Lancaster City Council, said: "What started as a response to Covid-19 is now turning into a great opportunity for the community to continue coming together to focus on addressing the health and wellbeing issues which directly impact communities in our district at grass roots level.
"Leading healthy lifestyles is important and community health champions are a vital thread in ensuring that people have the correct information they need to live healthy lives.
"It is inspiring to see the place-based projects which have already begun thanks to the scheme. Now we have launched we look forward to hearing from big and small community organisations. If you know how to get your community healthier, the Health Champions Scheme could get it off the ground."
For more information and to apply for funding, which closes on August 31, organisations should visit https://lancastercvs.org.uk/funding-opportunities/
Last updated: 13 July 2022