First Morecambe summit hailed a success as 200 gather to help shape the future of the town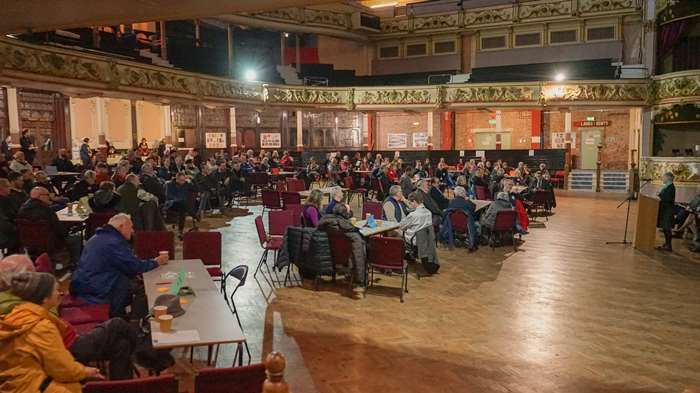 The Winter Gardens was awash with enthusiasm on Tuesday as 200 people gathered to discuss the future of Morecambe.
A special Morecambe summit, hosted by Lancaster City Council, took place in response to widespread interest in the town's future, following the announcement of the successful funding bid for Eden Project Morecambe.
Residents, local organisations and businesses had the chance to have their say on issues from transport, housing to the economy, the environment, education, regeneration and culture.
From ways to improve skills to keep young people in the area, to ideas on how the economy can grow from the 'Eden effect', all the hopes and concerns at the sell-out event were collated by Lancaster City Council and will help to inform change made in the future.
"Today was just the start of the conversation, said Mark Davies, Chief Executive of Lancaster City Council.
"It was an excellent day, with great turn out and fantastic enthusiasm. It's been great to see so many people interested in the development of Morecambe as a whole and there were so many great ideas.
"We know that in conjunction with the actual building of Eden, it is really important to consider other aspects which we need to address in Morecambe to fully gain the benefits of the Eden Project.
"The co-design of Morecambe can only happen with all stakeholders. So, we will be gathering the responses from our first event and planning to host further conversation events like this, so that as many people as possible can have their say on shaping the future of Morecambe."
Speakers included representatives from the city council, Eden, Lancaster University and Lancashire County Council, who spoke about the importance of working together to bring about positive change in Morecambe, in which residents were pivotal.
Councillor Caroline Jackson, leader of Lancaster City Council, said: "Today's summit was a result of people saying as soon as we got Eden, what's going to happen now. So, we wanted to bring together residents, community groups, businesses and partners together to discuss the future of Morecambe.
"Change is inevitable but that can bring uneasiness about the future and so we felt it was important to give people a space to discuss and share their views with us, and today we achieved that.
"It was wonderful to see so many people turning out to the event and hearing the vibrant discussions around hopes and fears, as well as so many good ideas being brought to the tables about how Morecambe could be shaped in the coming years."
Last updated: 16 March 2023