Electric vehicle charging points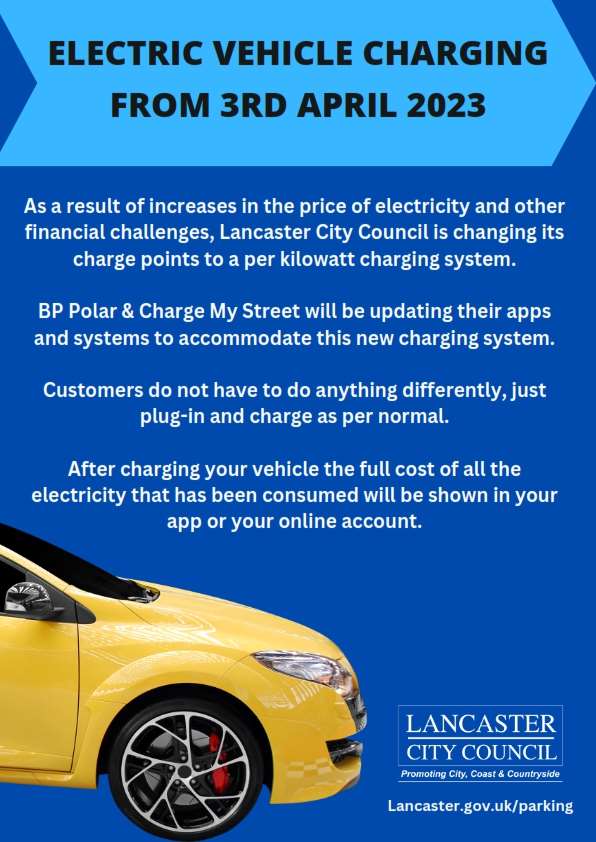 Lancaster City Council is committed to helping people to convert to zero emission vehicles, reducing transport related emissions and promoting more sustainable forms of transport. We have also committed to reducing air pollution and the council's impact on climate change.
This includes increasing the efficiency of buildings, replacing our vehicle fleet with electric and/or hydrogen powered vehicles and switching to 100% fossil-fuel-free energy.
A key element to achieving these aims is creating new infrastructure to make it easier for people to use electric vehicles. With no tailpipe emissions, electric vehicles make a significant contribution to improving air quality.
On this page you will find a list of charging points that have been installed by the council in Lancaster and Morecambe.
Fast chargers
Council owned and operated charge points are chargeable on a per Kilowatt basis. You will also need to pay any applicable parking charges. We are working in partnership with BP Pulse and Charge My Street.
Rapid chargers
Blink Charging have installed four rapid chargers in three car parks (Spring Garden Street, Billy Hill and Heysham Village car park). These chargers are limited to 1-hour use only. Parking is free whilst charging but electricity is charged.
Faults
Please contact the appropriate charge point operator for assistance.
EV charge point locations

Location
Car park
Type of connection
Lancaster
Dallas Road, LA1 1LD
Fast 22kWh
Lancaster
Salt Ayre Leisure Centre, LA1 5JS
Fast 22kWh
Lancaster
Williamson Park, LA1 3EA
Fast 22kWh
Lancaster
Charter House, LA1 1PU
Fast 22kWh (2 stations)
Lancaster
Auction Mart, LA1 1XU
Fast 22kWh
Lancaster
Spring Garden Street, LA1 1RQ
Rapid 50kWh (2 stations)
Network: Blink
Morecambe
Billy Hill, LA4 5JU
Rapid 50kWh
Network: Blink
Morecambe
Festival Market, LA4 4DW
Fast 22kWh
Morecambe
West View, LA4 4AS
Fast 22kWh
Morecambe
Library, LA4 5DW
Fast 22kWh
Heysham
Village car park

Rapid 50kWh
Network: Blink

Lancashire
Lancashire County Council charge points
F7 and Rapid 50kWh
UK
View all on zap-map.com/live
EV charging points - Lancaster
EV charging points - Morecambe
Last updated: 03 July 2023