Commercial waste and recycling
Details of our trade waste collection services for local businesses
Christmas and New Year Collections for current customers
Current customers should note that there will be changes to their waste and recycling collections during the Christmas and New Year Period.
Our service offer for local businesses
A six day collection where viable
A full range of Eurobin containers at very competitive rates
Evening collection services (Lancaster city centre only)
Flexible billing arrangements
Friendly, efficient staff who deal with all aspects of trade refuse
---
About our trade waste collection and recycling services
For a simple guide to your business waste duty of care, see the Duty of Care Compliance - Right Waste, Right Place website.
---
Purchasing trade waste and recycling sacks and labels
Trade sacks and labels are available for delivery in multiples of 50 for smaller businesses or those with limited space.
To order for delivery:
Telephone 01524 582415 or 582416
A delivery charge applies for orders of 50 of either type. For orders of more than 50 delivery is free.
---
What we collect
We offer a comprehensive, reliable mixed recyclables collection service within the district
This includes cardboard, plastic bottles, plastic film and bags, bubble wrap, waste paper, newspaper, magazines, books with covers removed, tins and cans
Glass bottles and jars can be collected from Eurobin containers only - we cannot collect glass in sacks
Where we collect
Collection is available in most locations throughout the district.
How we collect
A full range of Eurobin containers can be offered from 360 litres to 1280 litres.
For smaller businesses and those with less space, recycling labels can be used for cardboard, and clear recycling sacks for mixed recyclables.
Recycling labels can also be used for plastic film/bags/bubble wrap, which should be squashed and bundled.
Cages that are owned by business (not provided by the council) should be flat packed with cardboard.
---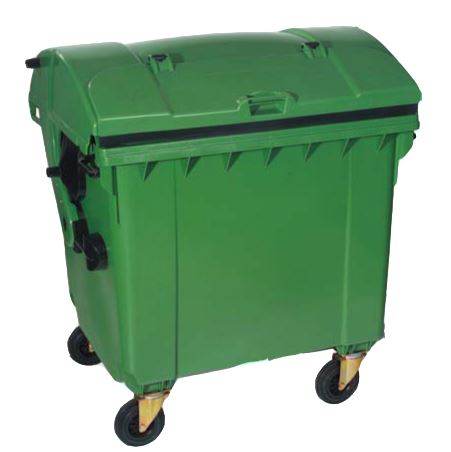 Eurobin features and benefits
A Eurobin container means that rubbish does not need to be left on the floor. This creates a better impression for your customers and allows you to fulfil your duty of care obligations.
Most containers have a close fitting hinged lid that can be securely locked to keep smells in and vermin out.
Eurobin containers - specifications
Containers are easy to manoeuvre and load by hand, with a low loading height
Containers are fitted with a drainage plug for ease of cleaning
---
Contact us
For more information on the services we provide, or for a free, no obligation Eurobin quotation, please contact us.
---
Last updated: 14 November 2023