With Christmas looking very different this year, we've pulled together a few ideas to try and keep the festive fun alive:
Priory Christmas Services – all available via Facebook page, order of service downloadable here: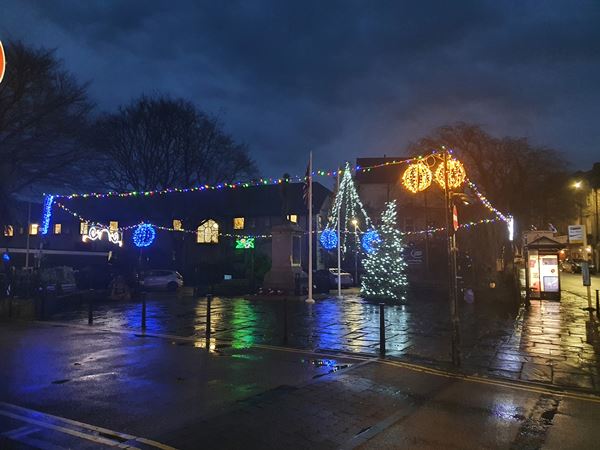 Carnforth Steps into the Light - Carnforth Business Network, has installed lighting in the War Memorial Gardens, along Market Street, New Street and parts of Lancaster Road and Scotland Road. And Morrisons of Morecambe have kindly donated a Christmas tree that is now proudly standing in the War Memorial Gardens. Read more.
'Keep A Light On', Lancaster - You may have noticed some light installations in shops in Lancaster over the last few weeks. You can get involved with 'Keep A Light On', which is running through the winter months. Find out more here.
Morecambe's Socially Distanced Sparkle - You may have already spotted some of Morecambe's iconic buildings spectacularly lit over the last couple of week but if not they are well worth a look if you're passing through. Read more.

Morecambe Winter Gardens lit up
Lancaster Escape Room: Exciting news! You can now play two of our rooms online! All for just £10 (so for a team of 4 that's only £2.50 each). The plan is simple. Click on the link below. Choose your game and work your way through. There is no time limit so take your time as you try and figure out the puzzles. The games are played through our website and we strongly recommend playing on a laptop of computer rather than a tablet! Good luck all. https://online.lancasterescape.co.uk/. In addition, you can take part in Lancaster Escape Room: Quest Walks - Follow the clues around Lancaster to Save Christmas this year. Download our Quest Walks app, (coming soon on IOS) to complete your mission.
Image by Robin Zahler

More Music - For the past 17 years More Music has organised the Winter Lantern Festival with its lantern parade through the streets of the West End of Morecambe. It has been a magical and memorable start to the festive season for residents and school children, a true community celebration.

This year in its place, More Music has taken on the challenge of lighting up the West End in a different way, creating a project and an outdoor, COVID-19 safe spectacle for anyone passing to enjoy. Keeping the Winter Lantern Festival flame alight, More Music has worked with local artists to decorate the windows of its building with a beautiful lighthouse illuminated from the inside every day from 4 – 8pm, and the results are fabulous.

The installation is made from different kinds of paper and it features a street scene, representing the houses around More Music. The lovely windows of the houses have been made by children from West End Primary school.
Online "A Christmas Carol"
St. Thomas Church, Lancaster - Watch their Carol Service or their All-Age Nativity online via Youtube anytime from 3pm on Christmas Eve. Full details on their website www.st.tees.org.uk
Moorside Trail - Moorside Primary School are planning a community Christmas Trail around the Moorside, Bowerham, Scotforth area, with trail maps being sold for families to discover a 'letter' at different points around the trail to make a word. All profits go to MOORFs, the PTA, help with projects around the school. Full details are on their Facebook page @moorsidefriend.