Hidden away in the shadows of The Storey is Lancaster's most secret garden. Just a stone's throw away from Castle Hill's historic Lancaster Castle, and a short walk from Lancaster Train Station, the Storey Gardens are right in the middle of oldest part of the City.
The large walled Georgian garden originally belonged to a private house on Castle Park, but was reclaimed and added onto the grounds of The Storey in the 30s and 50s.
The Storey Gardens is divided into two distinct areas, divided by a Georgian wall: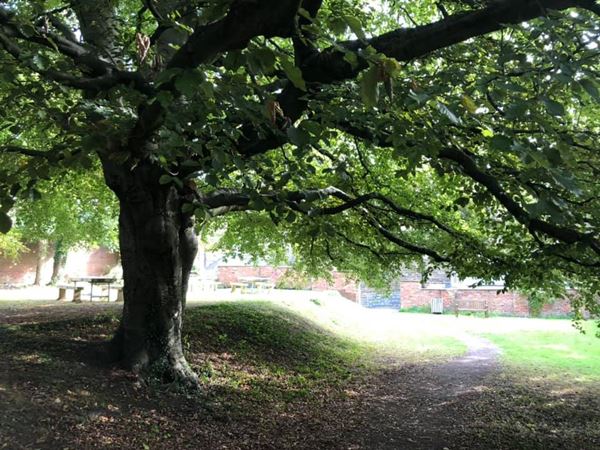 The Copper Beech Garden
is situated nearest to The Storey building, is on two levels and hosts an impressive Copper Beech tree at it's centre (hence the garden name!)

The Tasting Garden


is situated beyond the Georgian wall at the westernly side of the gardens. The Tasting Garden is an environmental artwork - an orchard, an artwork and a garden, created by internationally renowned environmental artist Mark Dion in 1998.
The paths in The Tasting Garden are laid out in the form of the branches of a tree, with old varieties of fruit trees (apple, cherry, plum and pear) planted on each of the four main branches. Extinct varieties are marked by memorial stones. A small folly, The Arboriculturalist's Workshed, in one corner contains traditional gardening equipment, created as a monument to the people who produced the varieties of fruit trees that are part of our heritage. Plinths bearing a bronze sculpture of its fruit were erected in front of each of the fruit trees.

Unfortunately, during a period of closure in 2008, the bronze fruit sculptures were stolen from The Tasting Garden.
The Friends of the Storey Gardens, which is a volunteer group established to preserve and enhance the gardens for the benefit of the community; are undertaking fundraising activities to restore the sculptual elements of the artwork in The Tasting Garden.

To learn more about the Friends' activities and to donate, please visit
The Friends of the Storey Gardens website
---
Opening Times
The Storey Gardens are open to the public:
9am - 4pm, Monday - Saturday (not including Bank Holidays)