Operation Peregrine swoops down on fly-tippers
Lancaster City Council's Operation Peregrine campaign to swoop down on fly-tipping criminals got off to a flying start this morning with the seizure of a vehicle suspected of being involved in the illegal dumping of waste.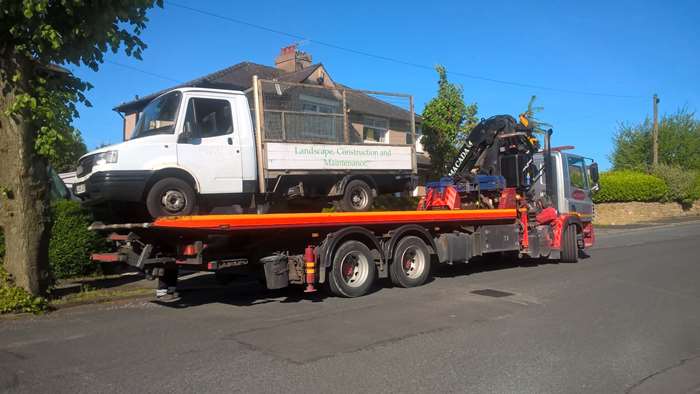 The launch of the campaign sends a strong message to anyone thinking of getting rid of their rubbish on the district's highways and by-ways that they might want to think again knowing that council's enforcement team of specialist crime investigators leave no stone unturned in its bid to track down anyone involved in the hideous crime of fly-tipping.
In addition to there being a maximum fine for fly tipping of £50,000 in a magistrates' court, unlimited fine in the higher courts and up to five years imprisonment, fly-tippers can also expect to have their vehicles seized if enough evidence has been gathered that it has been involved in a waste related crime.
Earlier today, a vehicle being used by an unsuspecting group of fly-tippers was seized by the council in partnership with Lancashire Constabulary as part of an ongoing investigation. If the vehicle is not claimed within 15 working days and the relevant documentation produced, the vehicle will be sold or destroyed. Where a prosecution has been started, the vehicle will be retained for the duration of the prosecution.
Duty of Care
Householders and businesses should also be reminded that they have a duty of care to ensure they check the legitimacy of who was taking their waste if they'd rather their rubbish end up on a licensed site, not a layby and avoid a knock on the door and a fine of up to £5,000.
Coun Brendan Hughes, Cabinet member with responsibility for Environmental Services, said: "Fly-tipping is a constant battle for local authorities. It blights our communities and spoils our countryside and we all need to work together if we have any chance of winning the war.
"Whether it's a bin bag full of rubbish cluttering our back alleys or the dumping of entire bathroom suite down a quiet country lane, Operation Peregrine will be utilising a wide range of tactics in partnership with other agencies and the local community which will focussing on education, prevention, deterrence and prosecution.
"Clean and safe neighbourhoods is a priority for the council and we recognise that key to the success of this operation is the collaboration and support of local communities to gather information, intelligence and evidence for the team to investigate."
If you want to join in our battle to rid the district of fly tipping and can offer any information which might lead to an offender being identified and caught, please call Lancaster City Council Customer Services on 01524 582491, email customerservices@lancaster.gov.uk or use the online reporting form at www.lancaster.gov.uk/fly-tipping
S.C.R.A.P
As part of the campaign, the council is urging residents and businesses wanting to make sure their waste is disposed of legitimately to think S.C.R.A.P.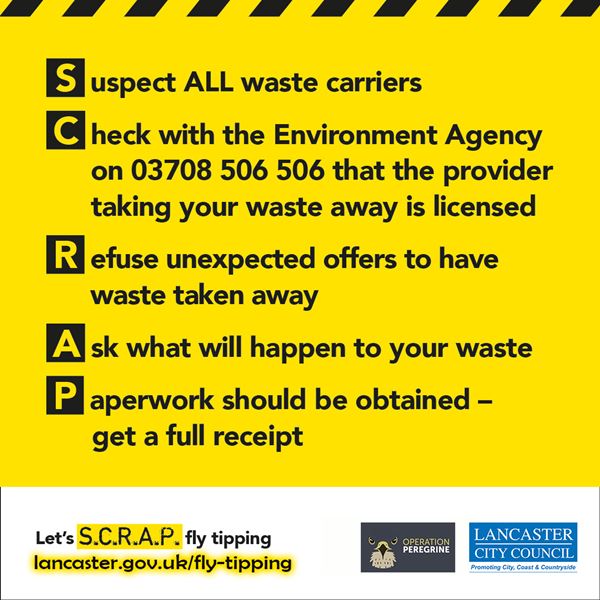 Last updated: 30 May 2018