Salt Ayre boasts a wide variety of fitness classes, suitable for all ages and fitness levels. Unlimited classes are available as part of our membership packages, and non-members can 'pay as you go'. See our fitness class timetable below for further information.
As part of our new £5m development project, we're proud to bring you the latest in cycling fitness through our Immersive Studio.
All of our classes are led by trained professionals who will ensure that you get the most out of the session, and operate within a safe and friendly environment.
Please be aware that in order to ensure our customers are able to attend as many classes of their choice, we operate a 3 Strike Policy (JPG, 1.1MB)around class bookings.
Furthermore, we operate a 'traffic light' system to ensure we are offering the most exciting class timetable in the area. All class attendance numbers are monitored constantly, and reviewed periodically. Well attended classes will be be grouped in the 'Green' category; classes that have a decline in attendance will be grouped in the 'Amber' catergory and will continue to be closely monitored; and poorly attended classes will be grouped in the 'Red' category meaning they are at risk of cancellation during the next quarterly timetable review.
---
Les Mills New Release Launch Event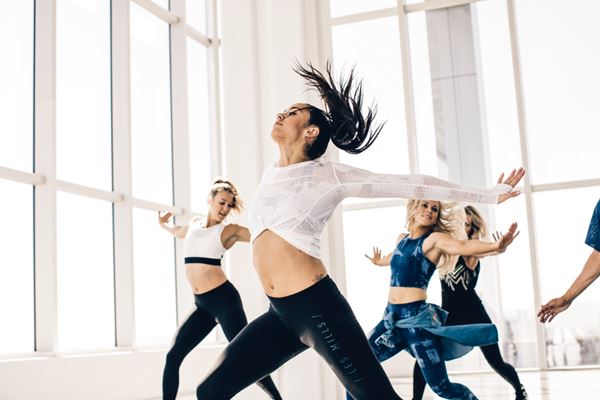 Tuesday 9th July, from 5.20pm
Register for your chance to attend!

Be one of the first to try the latest releases of Sh'Bam // Body Pump // RPM // Body Combat // The Trip // Body Balance // Sprint //
FOR FREE!

Simply fill in your details on our quick online form

Attendees will be chosen and contacted on Friday 5th July.

5.20pm Welcome, Sports Hall
5.30pm Body Pump, Sports Hall
5.30pm The Trip, Immersive
6.30pm Sh'Bam, Sports Hall
6.30pm RPM, Immersive
6.30pm Body Balance, The Hub
7.30pm Body Combat, Sports Hall
7.30pm Sprint, Immersive
8.30pm The Trip, Immersive

There will be an allocated number of spaces available for Salt Ayre Members and members of the public.

Entries will be added to a ballot so that, in the instance that more people apply to attend a session than there are available spaces, places will be selected at random which is the fairest way to allocate.

Naturally, if not as many people apply to attend as there are spaces available, all those who have applied will be issued with a space to attend.

We feel this means that as many people as possible have the opportunity to attend this fantastic event :)
---
Fitness Class Prices
All fitness classes are included with our Full, 60+, Fit Monthly and Junior Memberships.
Casual users will pay £5.80 per class until 31st March, £6.20 per class from 8th April.
Actve Lives or Go Card Users will pay £3.30 per class until 31st March, £3.40 per class from 8th April.
See our full price list for more information
---
Looking to get back into fitness?
If you are currently exercising less than 30 minutes, 3 times per week you may be eligable to join the Active Lives 12 week Physical Activity Programme, which will give you access to our fitness classes, gym, and a range of other facilities, classes and sessions for free!
Visit the Active Lives Website for more information