Lancaster district holiday activities and food programme 2021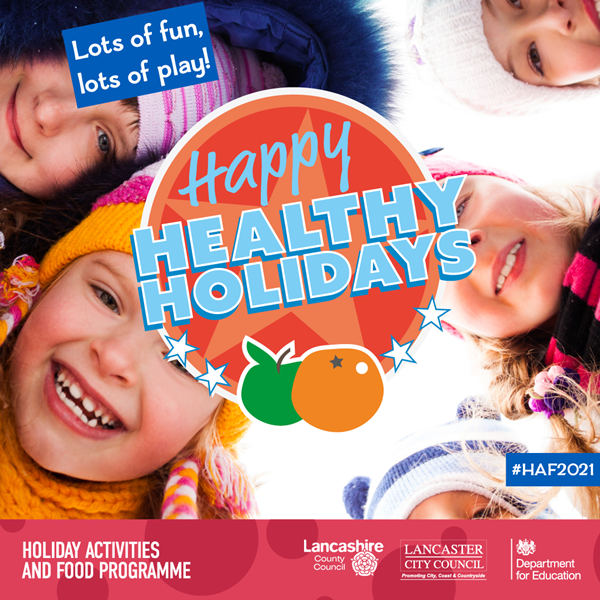 Thank you, to all our providers that supported us in delivering the Holiday Activity and Food (HAF) programme over the summer holidays. Following on from this success, we are now looking for providers to deliver HAF over the Christmas period.
The Holiday Activities and Food (HAF) programme is funded by the Department for Education to local councils to provide school holiday activities, including food, to children who are eligible for free school meals. 
Information for providers
We are seeking to fund a diverse range of projects and activities to engage school children of all ages and abilities.  Activities can be open to all, but priority should be given to children receiving benefits-related free school meals. Places for children who are in receipt of receipt of benefits-related free school meals will be made available at no cost to the family.  Children who are not in receipt of benefits-related free school meals can pay to attend if there are sufficient spaces and a limited number of spaces can be open to other children in need which should be agreed with Lancaster City Council. 
Aim of the programme
School holidays can be particular pressure points for some families because of increased costs (such as food and childcare) and reduced incomes. For some children that can lead to a holiday experience gap, with children from disadvantaged families:  
less likely to access organised out-of-school activities.
more likely to experience 'unhealthy holidays' in terms of nutrition and physical health.
more likely to experience social isolation.
 Free holiday clubs are a response to this issue and evidence suggests that they can have a positive impact on children and young people and that they work best when they:  
provide consistent and easily accessible enrichment activities.
cover more than just breakfast or lunch.
involve children (and parents) in food preparation.
The objectives of the programme are to:
Provide healthy meals over the school holidays (at least one meal for every day of provision).
Enable children to be more active over the school holidays.
Provide engaging and enriching activities which supports the development of resilience, character, and wellbeing.
Ensure children are kept safe and prevent social isolation.
Provide opportunities for children and families to develop knowledge of nutrition and how to cook healthy meals.
Increase awareness of how to access services available to support children and families.
Who can apply?
This fund is open to the voluntary and community sector, schools, local authority, and private providers who can meet the objectives of the programme.
To be eligible for the funding, free places for activities must be made available for the equivalent of a minimum of 16 hours face-to-face provision per child during the period 20 to 24 December eg for four hours each day or for two eight hour sessions during the same time period. Healthy meals must also be provided. Please get in contact if you have any queries around the requirements in place to fulfil the aims of the programme.
Apply for grant funding
Applications are now being taken for the holiday activity and food (HAF) Fund for the Christmas holiday period of 2021. Deadlne for applications is Monday, 8th November.
Before applying online, please read the below guidance documents:
If you would like to know more about the HAF programme before you apply, please email HAF@lancaster.gov.uk or visit the Holiday Activities and Food programme on GOV.UK
Last updated: 13 October 2021