Autumn/Winter Platform brochure out now
The Platform in Morecambe is celebrating its 20th anniversary as an entertainment venue this year with the launch of its autumn and winter programme offering the very best of live entertainment.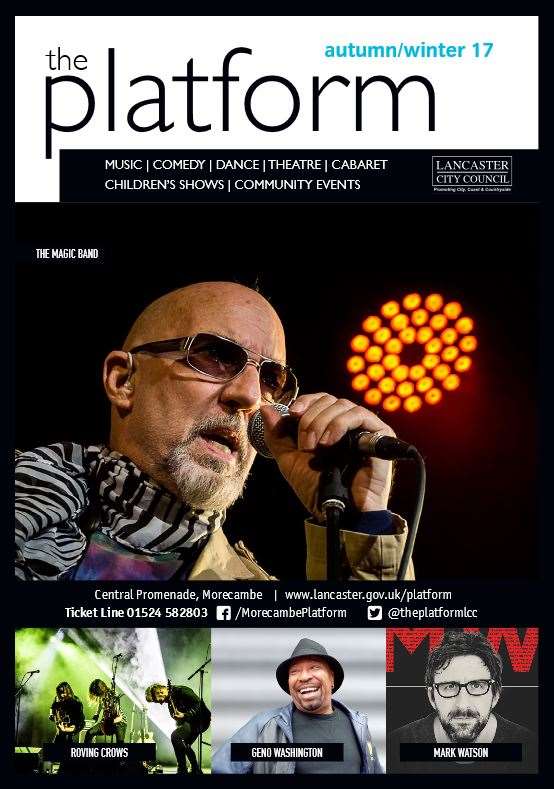 Some of the biggest names from television, comedy and music appearing at the seaside venue include BBC wildlife presenter Gordon Buchanan, comedian Mark Watson, Barbara Dickson with Nick Holland, and Les McKeown's Bay City Rollers.
These performers combine with some of the best contemporary touring artists including Celtic roots band Jamie Smith's Mabon, the Sex Pi**ed Dolls, Jess Morgan and Dan Whitehouse, Chantel McGregor, The Roving Crows and Kathryn Williams.
Jacqui McShee's Pentangle, Geno Washington and the Ram Jam Band, The Magic Band, Peggy Seeger, and The Houghton Weavers are just a few of the other renowned live acts performing this season.
During the autumn/winter season, you'll also be invited to experience the timeless tunes of musical icons with the highest quality tributes to Phil Collins, Roy Orbison and the Traveling Wilburys, Led Zeppelin, The Eagles, ELO and Queen. In addition, the original line-up of Billy Fury's Tornados perform for their 20th year with the uncanny voice of Colin Gold as Fury.
December features a host of festive events with Buddy Holly & The Cricketers – Holly at Christmas returning along with, The Merseybeats' Christmas Show, Morecambe Band's Christmas Concert, children's show Santa's Christmas Wish and Christmas with Joe Longthorne.
The Platform's 20th Anniversary in December will be marked with a concert from Morecambe's Promenade Concert Orchestra performing a series of railway themed and seasonal melodies, celebrating 20 years since the Platform first opened its doors as a live entertainment venue in 1997.
Other events include the Heroes and Foes family comic-con, "Morecambe On Film" presented by The Dukes, the first ever Gospel Bayfest and A Splendid Day Out – Steampunk and Victorian Festival. Shaun Gash will present his inspirational talk "A Journey of Determination – No Fear On Wheels" and there will be further performances from Morecambe Band and Promenade Concert Orchestra along with an event from the Lancashire Music Hub.
The new autumn/winter edition of the Platform brochure is available to flick though or download now at www.lancaster.gov.uk/platform or you can pick up a copy for free at Visitor Information Centres in Morecambe and Lancaster.
Keep up to date with the latest news from the Platform at www.facebook.com/Morecambeplatform and www.twitter.com/theplatformlcc
Last updated: 21 August 2017