Planning policy consultations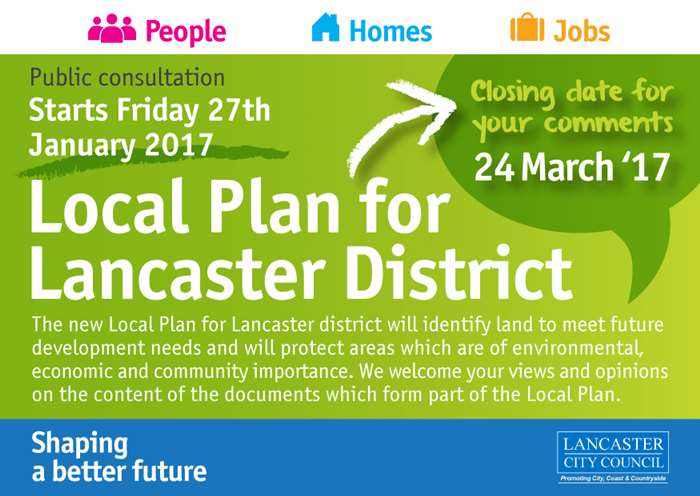 Have your say!
Lancaster City Council is currently consulting on the Local Plan: The draft Strategic Policies and Land Allocations Development Plan Document (DPD), accompanied by a policies map, shows sites that will be developed or protected from development. The revised draft Development Management Development Plan Document (DPD), provides the policies which are used to consider planning applications. The Sustainability Appraisal helps to ensure that the social, economic and environmental effects of policies and plans are understood and fully taken into consideration. Consultation outcomes will help shape the local plan documents that will be formally published, potentially late 2017 and then submitted to government for independent Examination. All documents relating to this stage of consultation and how to respond can be found below.
---
We welcome your views on the Local Plan documents
You will need to consider the following documents before making your response to the consultation.
---
Additional information
Below is a series of information and evidence which have assisted in informing the preparation of the local plan documents, whilst these are not formal parts of the consultation, they may assist in the understanding of approaches taken within the Strategic Policies & Land Allocations DPD and the Review of the Development Management DPD.
| Specific Site Information (draft Development Briefs): | Other |
| --- | --- |
| | |
Consultation Information Booklet (PDF, 2.1MB) (also viewable at the end of this page)
Frequently Asked Questions (PDF, 357KB)
---
Responding to the consultation
If you would like to respond to this consultation, there are a number of ways to do so, see below for more details.
Complete the online form - once submitted your comments will be sent directly to the Planning Policy team.
Send your comments to the Planning Policy team via either email: planningpolicy@lancaster.gov.uk or post to: Regeneration and Planning, PO Box 4, Town Hall, Dalton Square, Lancaster LA1 1PJ using the Response Form (DOCX, 203KB).
Visit one of the public consultation drop in events (view details below).
PLEASE NOTE - When entering your comments please reference:
Document name
Policy / site number
Paragraph number
Public consultation drop in events
| Date | Venue | Time |
| --- | --- | --- |
| Monday 6 February | Lancaster Methodist Church, Scotforth Road, LA1 4TE | 4pm-7pm |
| Wednesday 8 February | Christ Church Hall, Wyresdale Road, LA1 3EA | 4pm-7pm |
| Thursday 9 February | Carnforth Heritage Centre, Carnforth Station, LA5 9TR | 4pm-7pm |
| Tuesday 14 February | Central Lancaster High School, Crag Road, LA1 3LS | 4pm-7pm |
| Saturday 18 February | St Nicholas Arcade, Lancaster City Centre, LA1 1NB | 10.30am-1.30pm |
| Monday 20 February | Ellel Village Hall, Main Road, Galgate, LA2 0LQ | 4pm-7pm |
| Tuesday 21 February | Carnforth Civic Hall, North Road, Carnforth, LA5 9LJ | 3pm-6pm |
| Thursday 23 February | Middleton Parish Hall, Low Road, LA3 3LG | 4pm-7pm |
| Tuesday 28 February | Morecambe Library, Central Drive, LA4 5DL | 4pm-7pm |
| Wednesday 1 March | Beaumont College, Slyne Road, LA2 6AP | 4pm-7pm |
| Thursday 2 March | Rowley Court, Scotforth Road, LA1 4PU | 4pm-7pm |
| Monday 6 March | Hala St Paul's Community Centre, Hala Square, LA1 4RW | 4pm-7pm |
| Tuesday 7 March | Hornby Institute, Main Street, Hornby, LA2 8JR | 4pm-7pm |
| Wednesday 8 March | Lancaster Library, Market Square, LA1 1HY | 12.30pm-3.30pm |
| Monday 13 March | Lancaster House Hotel, Green Lane, LA1 4GJ | 3pm-7pm |
Other relevant information
Further information can also be viewed at:
Morecambe Town Hall, Marine Road, Morecambe LA4 5AF
Lancaster Town Hall, Dalton Square, Lancaster, LA1 1PJ
Download: Developing a Local Plan for Lancaster District (PDF, 2.1MB)
If you would like to receive email updates on upcoming consultation, Local Plan documents and other planning policy matters, please JOIN OUR MAILING LIST. Please be aware that all responses to planning policy public consultation will be published on the website.
---
Consultation on the new Local Plan
---
Last updated: 09 February 2017