Services and Support
Services and Support for the Armed Forces Community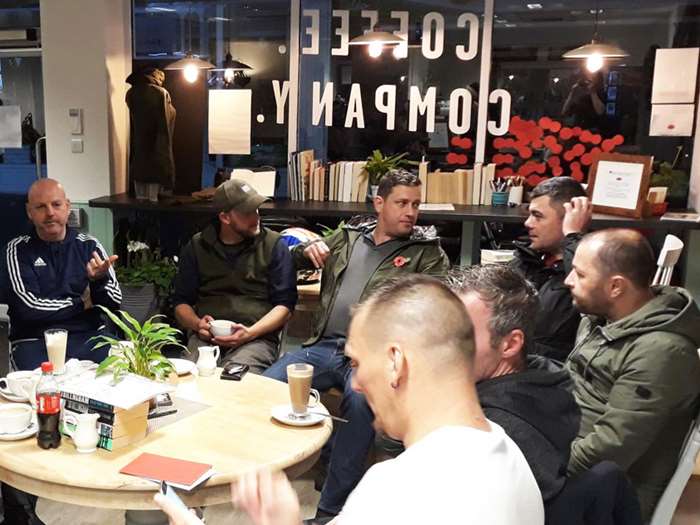 Charity and Trust Resources
Sharp's Café hub
Lancaster City Centre is home to our very own Sharp's Café hub.
This fantastic resource by First Light Trust is a hub for the armed forces community and civilian community alike to meet and chat.
All monies raised through our Sharpe's cafe hubs go towards helping former emergency service and armed forces personnel back on their feet.
How to find Sharpe's Café
Sharp's Café, 63-65 Market Street, Lancaster LA1 1JG
---
The Royal British Legion
The Royal British Legion has two branches within the district in Morecambe and Lancaster.
They are focal points for social activity, Remembrance and support the Armed Forces community in all kinds of ways. In local communities they play a vital role in helping hard to reach individuals and tackling problems like loneliness and isolation.
---
Housing
We are committed to ensuring that the armed forces community do not suffer any detriment when re-locating to the area. Visit our housing pages and view our housing allocations policy for further information.
When arriving in the district or ending a posting we recognise the importance of access to housing services. With regards to housing allocations our dedicated housing options team are available to support you and guide you through the process. We have removed any barriers which may have in the past limited access, including the removal of local connection rules as is the case across all councils in the UK. We are committed to the efficient service required to reduce the amount of stress involved for the Armed Forces Community in settling within the district.
The district has its own specific armed forces housing provision in Lancaster at Westfield Memorial Village and our housing department works closely with the Guinness Partnership to assist in housing anyone who may meet the criteria for their housing stock.
---
Employment
Lancaster City Council is a committed forces-friendly employer. Applications from the Armed Forces Community are welcomed and encouraged for our vacancies .
---
Access to community sport and leisure
Our community leisure centre Salt Ayre Leisure Centre provides sport and leisure facilities for the district.
Flexible memberships in line with the requirements of short postings and training can be accommodated, as well as access to team building facilities including the fantastic Gravity Tower which are particularly ideal for cadet groups.
For relaxation and rehabilitation, we also have the Tranquil Spa and Feel Good Suite facilities on site as well as many more facilities including indoor and outdoor play for young forces families to enjoy.
Contact the team on saltayre@lancaster.gov.uk if you have any queries around accessing our facilities and what we can offer you.
---
Healthcare
Access to healthcare we appreciate is something which is important for our Armed Forces Community. A number of GPs within the local area are accredited as veteran-friendly medical practices and are listed on Veterans Gateway.
Last updated: 15 September 2021