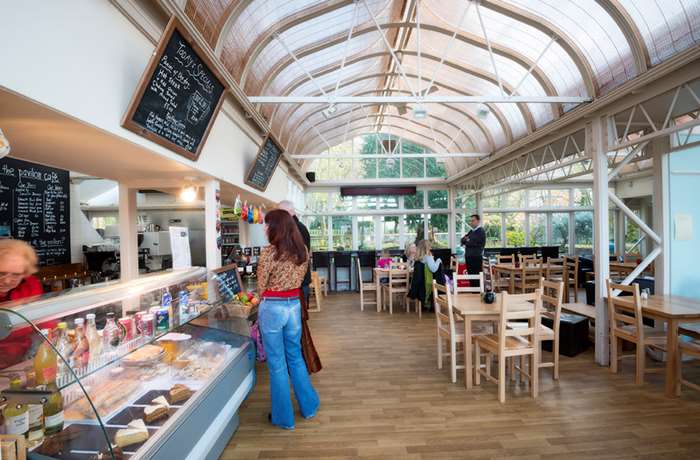 Opening times
October to March: 10am to 4pm
April to September: 10am to 5pm
Menus
A destination in its own right, the café has gone from strength to strength in recent years and draws on the local area's best produce to deliver its simple yet satisfying menus.
Local bread makers Lovingly Artisan and Lancaster's own award winning coffee roasters Atkinson's are amongst contributors to the council run Café with an independent feel.
Particularly during the summer months you'll find it a bustling haven, as park users enjoy the terrace and its remarkable vista which looks out across Morecambe Bay and onwards towards the Lakeland fells. Quieter and cooler months of the year provide an altogether more tranquil experience, a great excuse to sit for longer, sampling winter warming homemade soups as well as seasonal hot specials.
Look out for the occasional late night openings, a particular highlight being the café's involvement in October's Lancaster Music Festival. You'll also find the café open late during the nationally acclaimed, outdoor theatre season throughout July and August.
Where possible the café is available for larger daytime bookings as well as out of hours private hire.
---
Gifts galore and so much more in store
The gift shop has recently undergone an amazing transformation.
Hundreds of visitors come to the gift shop every month to buy tickets for the Butterfly House, mini beast cave, woodland garden and to purchase souvenirs of their visit.
The renovations have created a modern appearance with wooden flooring, repainting, new windows, new desk counters and improved signage.
New visitors to the shop will be greeted by knowledgeable friendly staff, who can offer advice and information on Lancaster, other council facilities and local tourist attractions. The shop staff are now wearing the same uniform that is worn by colleagues in the Customer Service departments so they are recognisable as Lancaster City Council staff.
Visitors wanting to take home a reminder of their visit to the park will be amazed by the new choice that is available. There is a wide range of Williamson Park souvenirs such as branded binoculars, bendy pencils and compasses and the 'I Survived the Mini Beast House' badges are already proving to be a hit. The shop is proud to stock 'The Very Hungry Caterpillar' goods which are very popular with youngsters, and also a complete range of gardening goods in keeping with the nature of Williamson Park.
In order to assist the café during busy periods, the shop has a new fridge and freezer to sell drinks and ice creams.
---
Last updated: 18 May 2016